26th July 2014, 12:05 PM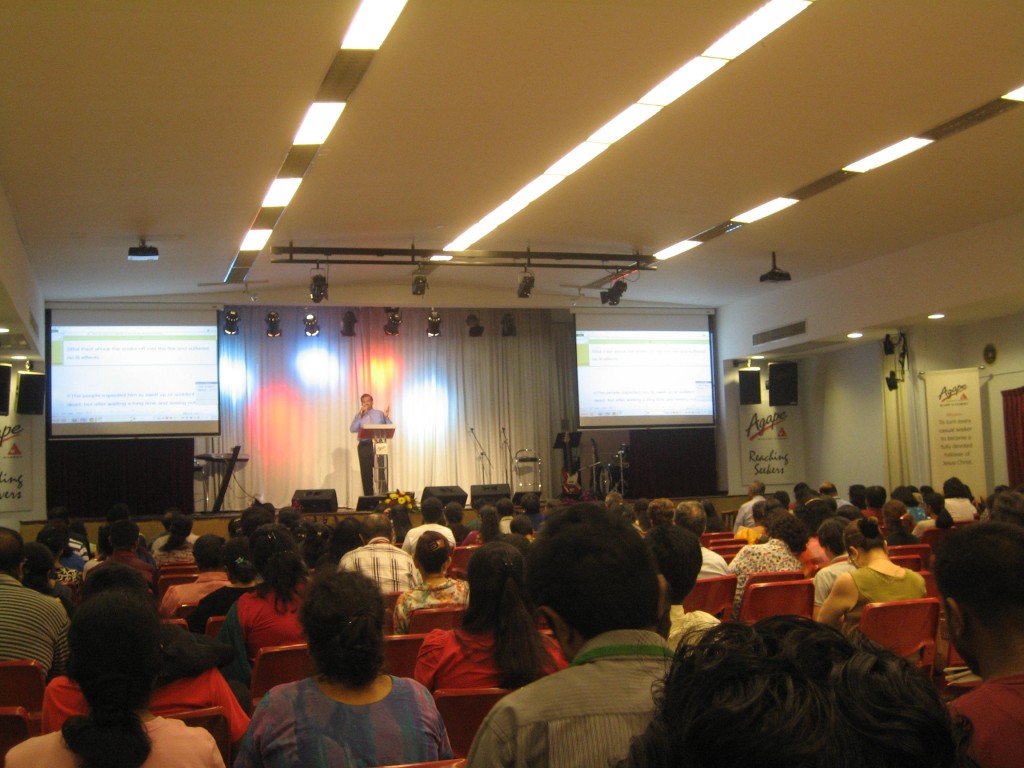 what is the message that comes through Prophecy?
1. Salvation. John 4:19 The woman saith unto him, Sir, I perceive that thou art a prophet. 1 Peter 1:10 Of which salvation the prophets have enquired and searched diligently, who prophesied of the grace that should come unto you:
2. Prophetical Word brings healing to the people. John 9:17 They say unto the blind man again, What sayest thou of him, that he hath opened thine eyes? He said, He is a prophet.
3. The Prophetical Word guides the saints. Acts 21:10 And as we tarried there many days, there came down from Judaea a certain prophet, named Agabus.
Treat the people who come to you for prayers with dignity. People should see humility in us. God will work through you and to you through them.
4. Prophetical Word encourages, comforts, and strengthens. 1 Corinthians 14:3  3 But he that prophesieth speaketh unto men to edification, and exhortation, and comfort.
5. Prophecy edifies the Church. 1 Corinthians 14:4 He that speaketh in an unknown tongue edifieth himself; but he that prophesieth edifieth the church.
The pastoral ministry keeps the members into salvation. Evangelism is to bring people into salvation. The Pastor's call should be to raise members in to their calling, to get the gift into operation.
6. When you prophecy, God will give you revelation. Ephesians 3:5 Which in other ages was not made known unto the sons of men, as it is now revealed unto his holy apostles and prophets by the Spirit;
From time to time, God gives new revelation.
7. Prophecy exalts the Word. Acts 15:32   And Judas and Silas, being prophets also themselves, exhorted the brethren with many words, and confirmed them.
Judas and Silas exalted the Word of God. Prophecy comes through scriptures. The Word of God is prophecy.
8. Prophecy contains the message to prosper.  Ezra 6:14 And the elders of the Jews builded, and they prospered through the prophesying of Haggai the prophet and Zechariah the son of Iddo. And they builded, and finished it, according to the commandment of the God of Israel, and according to the commandment of Cyrus, and Darius, and Artaxerxes king of Persia.
Deuteronomy 8:18 18 But thou shalt remember the Lord thy God: for it is he that giveth thee power to get wealth, that he may establish his covenant which he sware unto thy fathers, as it is this day
9. Prophecy transforms one into their right calling. 1 Samuel 10:6 And the Spirit of the Lord will come upon thee, and thou shalt prophesy with them, and shalt be turned into another man.
Saul was a donkey shepherd. God chose him to be a king.
10. Prophecy talks about future. Ezekiel 12:27 Son of man, behold, they of the house of Israel say, The vision that he seeth is for many days to come, and he prophesieth of the times that are far off.
Isaiah prophesied about distant future.
11. Prophecy corrects the people. 2 Timothy 4:14 Alexander the coppersmith did me much evil: the Lord reward him according to his works:
Acts 13:8-11 8 But Elymas the sorcerer (for so is his name by interpretation) withstood them, seeking to turn away the deputy from the faith. 9 Then Saul, (who also is called Paul,) filled with the Holy Ghost, set his eyes on him. 10 And said, O full of all subtilty and all mischief, thou child of the devil, thou enemy of all righteousness, wilt thou not cease to pervert the right ways of the Lord? 11 And now, behold, the hand of the Lord is upon thee, and thou shalt be blind, not seeing the sun for a season. And immediately there fell on him a mist and a darkness; and he went about seeking some to lead him by the hand.
12. Prophecy comes to anoint the kings. 1 Kings 19:15-16 15 And the Lord said unto him, Go, return on thy way to the wilderness of Damascus: and when thou comest, anoint Hazael to be king over Syria: 16 And Jehu the son of Nimshi shalt thou anoint to be king over Israel: and Elisha the son of Shaphat of Abelmeholah shalt thou anoint to be prophet in thy room.
13. Prophecy comes to reveal the acts of Jesus.  Acts 2:30 Therefore being a prophet, and knowing that God had sworn with an oath to him, that of the fruit of his loins, according to the flesh, he would raise up Christ to sit on his throne
What stops a person from prophesying?
1. Disobedience 1 Samuel 16:22, 23  And Saul sent to Jesse, saying, Let David, I pray thee, stand before me; for he hath found favour in my sight. 23 And it came to pass, when the evil spirit from God was upon Saul, that David took an harp, and played with his hand: so Saul was refreshed, and was well, and the evil spirit departed from him.
Saul disobeyed what God wanted him to do. God needs obedience. When God speaks, do it.
2. When there is no holiness, lying spirits comes in the mouth of prophets. 1 Kings 22:22 And the Lord said unto him, Wherewith? And he said, I will go forth, and I will be a lying spirit in the mouth of all his prophets. And he said, Thou shalt persuade him, and prevail also: go forth, and do so.
3. Man pleasers. 1 Kings 22:22 And the Lord said unto him, Wherewith? And he said, I will go forth, and I will be a lying spirit in the mouth of all his prophets. And he said, Thou shalt persuade him, and prevail also: go forth, and do so.
4. Do not despise prophecies. 1 Thessalonians 5:20 Despise not prophesyings.
5. Unbelief. 1 Corinthians 14:22 Wherefore tongues are for a sign, not to them that believe, but to them that believe not: but prophesying serveth not for them that believe not, but for them which believe.
Prophecy is for those who believe. Revelation 1:3 Blessed is he that readeth, and they that hear the words of this prophecy, and keep those things which are written therein: for the time is at hand. Revelation 22:7 Behold, I come quickly: blessed is he that keepeth the sayings of the prophecy of this book. Numbers 23:23  Surely there is no enchantment against Jacob, neither is there any divination against Israel: according to this time it shall be said of Jacob and of Israel, What hath God wrought!
Prophecy breaks divination and witchcraft.
When Prophecy comes what should we do?
Habakkuk 2: 2, 3
2 And the Lord answered me, and said, Write the vision, and make it plain upon tables, that he may run that readeth it.
3 For the vision is yet for an appointed time, but at the end it shall speak, and not lie: though it tarry, wait for it; because it will surely come, it will not tarry.
Write it down, announce it. Pray over the prophecy.