22-Nov-2014, Saturday, 5 pm City Harvest Church, Suntec Convention Center
On Saturday, Abigal, Geenu, and I attended the City Harvest Church service led by Dr. Marcus Lamb, founder of the Daystar Television Network. The service was broadcast live across the globe.
The service started with beautiful praise and worship. The Presence of God was awesome during worship.
After Praise and Worship, Pastor Kong welcomed, Mary Hudson, a mighty woman of God and mother of Katy Perry, on the stage. She gave a prophetical word to the Church and to Pastor Kong, which was well received.
Pastor Kong then welcomed Marcus Lamb, Televangelist and founder of Daystar Television network. Audience gave him a rousing welcome as he took the stage.
He shared the sermon, "How to overcome trouble", quoting Proverbs 18:14 The spirit of a man will sustain his infirmity; but a wounded spirit who can bear?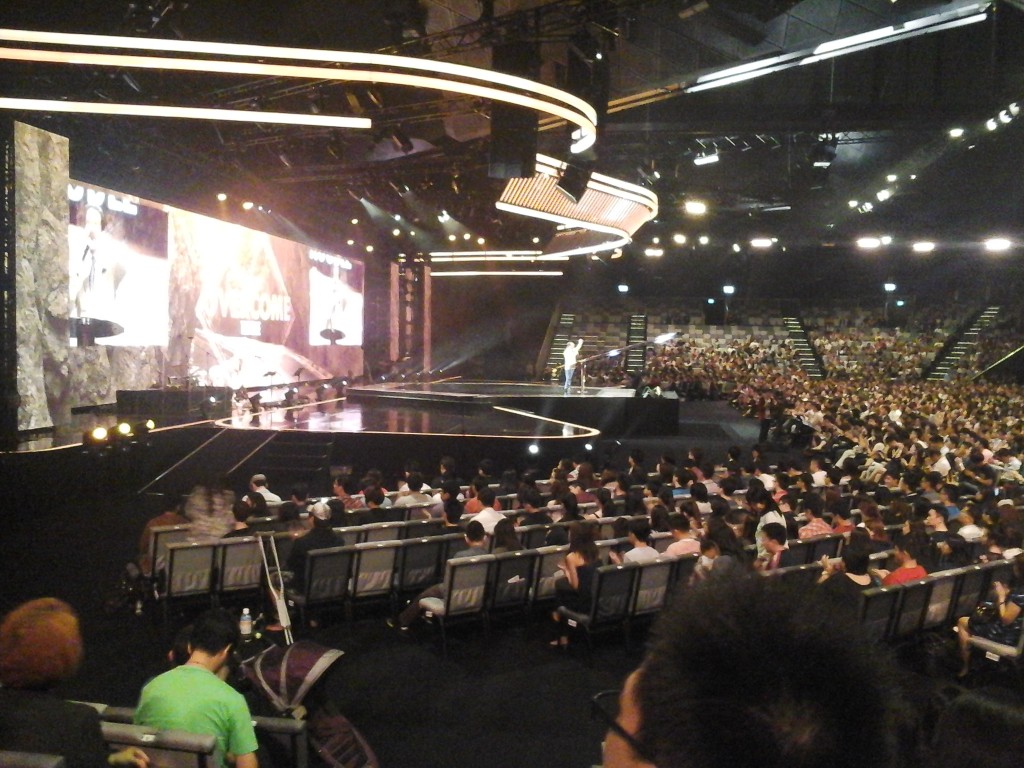 Sometimes bad things happen to good people.
1 Peter 4:12 Beloved, think it not strange concerning the fiery trial which is to try you, as though some strange thing happened unto you:
When the devil has a plan to take you out, God has a plan to keep you in.
Your trouble is not permanent. If you do not give up, you cannot be defeated.  Psalms 34:19 19 Many are the afflictions of the righteous: but the Lord delivereth him out of them all.John 10:10The thief cometh not, but for to steal, and to kill, and to destroy: I am come that they might have life, and that they might have it more abundantly.Everybody goes through difficult times. Don't believe everything you read on internet.
Even in your trouble, God is with you.2 Chronicles 20:17
Ye shall not need to fight in this battle: set yourselves, stand ye still, and see the salvation of the Lord with you, O Judah and Jerusalem: fear not, nor be dismayed; to morrow go out against them: for the Lord will be with you.Psalms 91:1, 291 He that dwelleth in the secret place of the most High shall abide under the shadow of the Almighty. 2 I will say of the Lord, He is my refuge and my fortress: my God; in him will I trust.Isaiah 43:1-3But now thus saith the Lord that created thee, O Jacob, and he that formed thee, O Israel, Fear not: for I have redeemed thee, I have called thee by thy name; thou art mine. 2 When thou passest through the waters, I will be with thee; and through the rivers, they shall not overflow thee: when thou walkest through the fire, thou shalt not be burned; neither shall the flame kindle upon thee. 3 For I am the Lord thy God, the Holy One of Israel, thy Saviour: I gave Egypt for thy ransom, Ethiopia and Seba for thee. Romans 8:35-39 35 Who shall separate us from the love of Christ? shall tribulation, or distress, or persecution, or famine, or nakedness, or peril, or sword? 36 As it is written, For thy sake we are killed all the day long; we are accounted as sheep for the slaughter. 37 Nay, in all these things we are more than conquerors through him that loved us. 38 For I am persuaded, that neither death, nor life, nor angels, nor principalities, nor powers, nor things present, nor things to come, 39 Nor height, nor depth, nor any other creature, shall be able to separate us from the love of God, which is in Christ Jesus our Lord.
God will bring you through the trouble.
Jesus told the disciples to go to the other side. On the way, they encountered a life threatening storm."If Jesus tells you, then it doesn't matter storm arise, you are gonna make it", said Marcus Lamb.
After the sermon, he led the people in to prayers. The anointing was awesome.
Pastor Kong then invited people who wanted to accept Jesus as their Savior to come forward. The audience responded in large numbers to the altar call.
The service finally ended with beautiful praise. Praise God for a wonderful time.