3rd February, 2013, Sunday
On Sunday, I attended the City Harvest Church morning service at Singapore Expo Hall 1. The service started with beautiful Praise and Worship. The anointing was powerful during the worship especially during the song "I Believe You're my healer". After Praise and Worship, we partook the Holy Communion.
After the Holy Communion, Pastor Kong shared the sermon on "Identification in Christ".  Taking real world examples of Bank and Airport, Pastor Kong mentioned, in order to access these institutions, you must show your identity.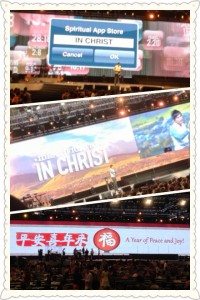 Similarly, in Christian life, if we want healing, blessing, deliverance, we must know our identity. Galatians 2:20 is every believer's identification in Christ. It defines Christianity.
20 I am crucified with Christ: nevertheless I live; yet not I, but Christ liveth in me: and the life which I now live in the flesh I live by the faith of the Son of God, who loved me, and gave himself for me.
In life, people identify themselves in different ways, some identity themselves with the problem, for example, divorcee, or some with their job, or some with their work as a software engineer or a doctor. When crisis happen and you lose your job, you face an identity crisis. Pastor Kong said "Our identity is more than our work or job".  Some identify themselves with their culture or race or color of their skin. But the fact is we are spirit beings, we have a soul and we live in a body.
The moment we are born again, we become the righteousness of God in Christ 2 Corinthians 5:17.
17 

Therefore if any man be in Christ, he is a new creature: old things are passed away; behold, all things are become new.
Colossians 1:27
27 To whom God would make known what is the riches of the glory of this mystery among the Gentiles; which is Christ in you, the hope of glory:
The saints during the Old Testament never imagined, God would dwell in the human beings. They could only come near to God. But because of Jesus' death, burial and resurrection, God dwells in us when we are born again. "When we drill deep in Christ, no matter what the devil did to our lives,  in Christ, God has swallowed the things of the past until there is no trace of past" stressed Pastor Kong.
Romans 6:6
6 Knowing this, that our old man is crucified with him, that the body of sin might be destroyed, that henceforth we should not serve sin.
Ephesians 2:4-5
4 But God, who is rich in mercy, for his great love wherewith he loved us, 5 Even when we were dead in sins, hath quickened us together with Christ, (by grace ye are saved;)
 Galatians 6:14
14 But God forbid that I should glory, save in the cross of our Lord Jesus Christ, by whom the world is crucified unto me, and I unto the world.
"Some of you might have done wrong in the past, but just because you did something wrong, does not mean you're that person" said Pastor Kong.  For example, Saul became Paul. His supreme goal was to be found in Christ.
Philippians 3:9
9 And be found in him, not having mine own righteousness, which is of the law, but that which is through the faith of Christ, the righteousness which is of God by faith:
Pastor Kong mentioned that there are 3 ways to be "found in Christ".
Find yourself in the Word of God. Your location determines your identification. Even Jesus did that. Luke 4:17-1817 And there was delivered unto him the book of the prophet Esaias. And when he had opened the book, he found the place where it was written,

18 The Spirit of the Lord is upon me, because he hath anointed me to preach the gospel to the poor; he hath sent me to heal the brokenhearted, to preach deliverance to the captives, and recovering of sight to the blind, to set at liberty them that are bruised, 19 To preach the acceptable year of the Lord. 20 And he closed the book, and he gave it again to the minister, and sat down. And the eyes of all them that were in the synagogue were fastened on him.21 And he began to say unto them, This day is this scripture fulfilled in your ears.

Jesus found himself in the Bible and not what people said about him that's he's a carpenter's son.

"Your friends will tell you who you are, your boss may tell you who you are, but thank God, we have the Bible to tell us who we are" quoted Pastor Kong.

In the book " 7 habits of Highly Effective People",  there are 3 theories of human limitations:

Determinism (No Escape)            Limited By
1 Genetic                                                    Genes
2 Psychology                                              Personality (e.g. introvert)
3 Environment                                           Surroundings (e.g. HDB)

But the book ignores the God factor that enables a man to succeed beyond the limitations of Genes, Personality, and his Surroundings.

Ephesians 1:4 

4 According as he hath chosen us in him before the foundation of the world, that we should be holy and without blame before him in love:

"You are not an accident, You were in God's mind. God had chosen you before the foundation of the world" said Pastor Kong.

In Colossians 2:9-10, we read

9 For in him dwelleth all the fulness of the Godhead bodily.10 And ye are complete in him, which is the head of all principality and power:

"Jesus has all the fullness of God and since we are in-grafted in Christ, so His power becomes our power, His life becomes our life" said Pastor Kong. We must let the Word of God define us and not the word. Christian life is more than going to heaven when we die, said Pastor Kong.

The second way to be found in Christ is that you got to identify what Jesus Christ has done for you. You are identified with Christ in His death, and by His resurrection, we are one with Him. Jesus is the Head and we are His body. When God sees you, He sees Jesus and when God sees Jesus, He sees You.  When you face problem, take your position in Christ, breathe deeply, and relax. Don't be pushed to make any choice. God wants you to sit down in the position of authority to fight against the problems, said Pastor Kong.
The third way to be found in Christ is to confess those "In Christ" promises into reality. We must speak out what we believe. We must confess 3 things:

What God has done for us in Christ. We find this in 2 Corinthians 5:17 17 Therefore if any man be in Christ, he is a new creature: old things are passed away; behold, all things are become new. 1 John 1:9 9 If we confess our sins, he is faithful and just to forgive us our sins, and to cleanse us from all unrighteousness.
Who we are to Him in Christ. We find this in 1 Corinthians 6:17-19 1

7 

But he that is joined unto the Lord is one spirit. 18 Flee fornication. Every sin that a man doeth is without the body; but he that committeth fornication sinneth against his own body. 19 What? know ye not that your body is the temple of the Holy Ghost which is in you, which ye have of God, and ye are not your own?
What God can do through us in Christ. We find this in 2 Corinthians 2:14 1

4 

Now thanks be unto God, which always causeth us to triumph in Christ, and maketh manifest the savour of his knowledge by us in every place

.
After we confess, we must be daring enough to publicly speak to the whole world and that's when you find that the Word of God works. The more we confess, the more we grow in Faith. Our faith cannot grow beyond our confession, said Pastor Kong.
Finally Pastor Kong asked people to give cheerfully for the Kingdom of God. Quoting, 1 Timothy 6:6 -10
6 But godliness with contentment is great gain.7 For we brought nothing into this world, and it is certain we can carry nothing out. 8 And having food and raiment let us be therewith content. 9 But they that will be rich fall into temptation and a snare, and into many foolish and hurtful lusts, which drown men in destruction and perdition. 10 For the love of money is the root of all evil: which while some coveted after, they have erred from the faith, and pierced themselves through with many sorrows.
Prosperity and Holiness go hand in hand. Money is not evil but the lust and greed for money is evil, said Pastor Kong. In the above verse, Godliness means to be God like in giving and the word contentment means not be a hoarder.
After the offering, Pastor Kong led the people into Worship. The Presence of God was awesome. Under the anointing, Pastor Kong rebuked the sickness and and prayed for deliverance, healing and prosperity. People held hands and prayed corporately. Finally, Pastor Kong asked everyone to join hands and pray for the Church. It was awesome time when people prayed together. The service ended with beautiful Chinese New Year song and people greeting one another with kon shi, kon shi.
After the service, I had lunch at Changi Point and then headed off for Malayalam fellowship.
Praise God for an awesome time 🙂