14th July 2013, Sunday, 10 am
Today, I attended the City Harvest Church service at the Suntec Convention Center. The place looks awesome after the renovation.
The service started at 10 am with beautiful praise and worship led by Sun Ho.
After Praise and Worship, Pastor Kong shared the sermon – "It is Finished" by quoting John 19:28-30 After this, Jesus knowing that all things were now accomplished, that the scripture might be fulfilled, saith, I thirst. 29 Now there was set a vessel full of vinegar: and they filled a spunge with vinegar, and put it upon hyssop, and put it to his mouth. 30 When Jesus therefore had received the vinegar, he said, It is finished: and he bowed his head, and gave up the ghost.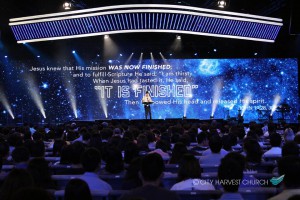 There are 2  places in the scripture, where it is mentioned "It is finished". The first one is in Genesis 2:2 By the seventh day God had finished the work he had been doing; so on the seventh day he rested from all his work. 
When Jesus died on the cross, we received everything we needed – salvation, healing and blessings. That's why Jesus said, it's finished.
Matthew 11:28 
28 "Come to me, all you who are weary and burdened, and I will give you rest.
He mentioned, as Christians, we must not worry but do our best and leave the rest to God. Let God do the heavy work. All we need to do is pray, worship and put our Faith in God.
Matthew 6:25 
25 "Therefore I tell you, do not worry about your life, what you will eat or drink; or about your body, what you will wear. Is not life more than food, and the body more than clothes? 
26 Look at the birds of the air; they do not sow or reap or store away in barns, and yet your heavenly Father feeds them. Are you not much more valuable than they? 27 Can any one of you by worrying add a single hour to your life[e]?
28 "And why do you worry about clothes? See how the flowers of the field grow. They do not labor or spin. 29 Yet I tell you that not even Solomon in all his splendor was dressed like one of these. 30 If that is how God clothes the grass of the field, which is here today and tomorrow is thrown into the fire, will he not much more clothe you—you of little faith? 31 So do not worry, saying, 'What shall we eat?' or 'What shall we drink?' or 'What shall we wear?'32 For the pagans run after all these things, and your heavenly Father knows that you need them. 33 But seek first his kingdom and his righteousness, and all these things will be given to you as well. 34 Therefore do not worry about tomorrow, for tomorrow will worry about itself. Each day has enough trouble of its own
Jesus taught the disciples how to pray.
9 "This, then, is how you should pray:
"'Our Father in heaven, hallowed be your name, 10 your kingdom come, your will be done, on earth as it is in heaven. 11 Give us today our daily bread. 12 And forgive us our debts,     as we also have forgiven our debtors. 13 And lead us not into temptation, but deliver us from the evil one.'
Jesus wants us to rest in prayer, rest in worship and rest in Faith, said Pastor Kong. He advised do your best in your studies, career, marriage, health, and ministry. After doing your best, leave the rest to God.
Pastor Kong shared the revelation he received for the Church by quoting Revelation 5
6 Then I saw a Lamb, looking as if it had been slain, standing at the center of the throne, encircled by the four living creatures and the elders. The Lamb had seven horns and seven eyes, which are the seven spirits[a] of God sent out into all the earth. 7 He went and took the scroll from the right hand of him who sat on the throne. 8 And when he had taken it, the four living creatures and the twenty-four elders fell down before the Lamb. Each one had a harp and they were holding golden bowls full of incense, which are the prayers of God's people. 9 And they sang a new song, saying:
"You are worthy to take the scroll
    and to open its seals,
because you were slain,
    and with your blood you purchased for God
    persons from every tribe and language and people and nation.
10 You have made them to be a kingdom and priests to serve our God,
    and they will reign[b] on the earth."
11 Then I looked and heard the voice of many angels, numbering thousands upon thousands, and ten thousand times ten thousand. They encircled the throne and the living creatures and the elders. 12 In a loud voice they were saying:
"Worthy is the Lamb, who was slain,
    to receive power and wealth and wisdom and strength
    and honor and glory and praise!"
When we pray and worship, God will work on our behalf. We will excel as kings in the market place in this life itself.
He then shared 4 things to step in to miraculous realm:
Guard your thoughts –  Proverbs 23: 7 says As a man thinketh in his heart, so is he. He shared the example of Roger Bannister who broke the world record of running a mile in less than 4 minutes which was considered impossible by the experts.When the mental barrier was broken, everything became possible.Ephesians 3:20 Now to him who is able to do immeasurably more than all we ask or imagine, according to his power that is at work within us. Thinking is as much praying as you are asking. Prayer is only 30% verbal and 70% through thoughts. Philippians 4:8 Finally, brothers and sisters, whatever is true, whatever is noble, whatever is right, whatever is pure, whatever is lovely, whatever is admirable—if anything is excellent or praiseworthy—think about such things. He advised, we must focus on positive thoughts, celebrate small victories.
Visions and Dreams – Acts 2:17 "'In the last days, God says, I will pour out my Spirit on all people. Your sons and daughters will prophesy, your young men will see visions, your old men will dream dreams. Although, Holy Spirit speaks through tongues, but Visions and dreams is the favorite language of Holy Spirit.
Believe – Jesus says in Mark 9:23 " Everything is possible for one who believes." John 11:40  Then Jesus said, "Did I not tell you that if you believe, you will see the glory of God?". Pastor Kong mentioned a God idea can only bring a breakthrough in our life. We must meditate on the Word of God. Romans 10:16-17 But they have not all obeyed the gospel. For Isaiah says, "Lord, who has believed our report?"[a] 17 So then faith comes by hearing, and hearing by the word of God. 
Speaking – We ought to speak out specific promises God has given us. Romans 10:8-10 But what does it say? "The word is near you, in your mouth and in your heart"[a] (that is, the word of faith which we preach): 9 that if you confess with your mouth the Lord Jesus and believe in your heart that God has raised Him from the dead, you will be saved. 10 For with the heart one believes unto righteousness, and with the mouth confession is made unto salvation. If you want to see God's blessings in your finances, marriage, health, we must confess God's promises over our situation. God answers specific prayers. Pastor Kong shared the example of Stanley E Jones, one of the greatest missionary, and was nominated Nobel Peace Prize for his works. During his late eighties, he laid sick and doctors had given up hope, but he persisted in the Word of God and spoke God's promises over his health and overcame the sickness and lived a healthy life until he passed away.
After the sermon, Pastor Kong led the people in to worship and under the anointing, he rebuked the sickness and disease and prayed for healing and financial breakthrough. The service ended at sharp 12 noon. Praise God for a wonderful time.