13th Nov 2016, Sunday, Pastor Kong Hee at Suntec Convention Center
Who are you?
Isaiah 8:18 Here am I and the children whom the Lord has given me! We are for signs and wonders in Israel From the Lord of hosts, Who dwells in Mount Zion
Exodus 4:17 And you shall take this rod in your hand, with which you shall do the signs."
Ephesians 1:3 Blessed be the God and Father of our Lord Jesus Christ, who has blessed us with every spiritual blessing in the heavenly places in Christ,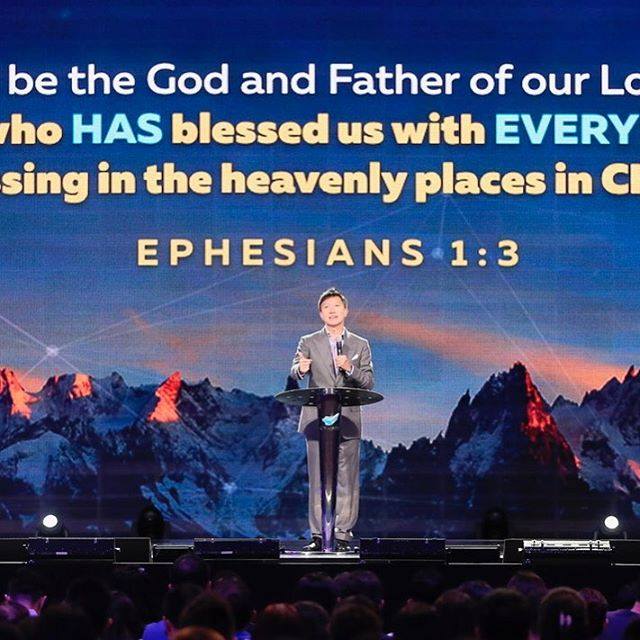 Everything we need is already there. Every treasure is behind the closed door. We need keys to open this closed door. What is this key? A major key is to know who you are according to the Word of God. Only when you know who you are, can you become what God has redeemed you to be.
John 1:19-23  Now this is the testimony of John, when the Jews sent priests and Levites from Jerusalem to ask him, "Who are you?" 20 He confessed, and did not deny, but confessed, "I am not the Christ." 21 And they asked him, "What then? Are you Elijah?" He said, "I am not." "Are you the Prophet?" And he answered, "No." 22 Then they said to him, "Who are you, that we may give an answer to those who sent us? What do you say about yourself?" 23 He said: "I am 'The voice of one crying in the wilderness: "Make straight the way of the Lord,"'[a] as the prophet Isaiah said
What people say about you is not as important as what I say about myself.
John 8:53 Are You greater than our father Abraham, who is dead? And the prophets are dead. Who do You make Yourself out to be?"
John 8:58 Jesus said to them, "Most assuredly, I say to you, before Abraham was, I AM.
 Hebrews 10:7 
Then I said, 'Behold, I have come—
In the volume of the book it is written of Me—
To do Your will, O God.'"
Where are you from?
John 8:23 And He said to them, "You are from beneath; I am from above. You are of this world; I am not of this world.
John 8:42 Jesus said to them, "If God were your Father, you would love Me, for I proceeded forth and came from God; nor have I come of Myself, but He sent Me.
John 8:58 Jesus said to them, "Most assuredly, I say to you, before Abraham was, I AM."
Do you know where you come from? asked Pastor Kong.
Philippians 3:20 For our citizenship is in heaven, from which we also eagerly wait for the Savior, the Lord Jesus Christ,
What are you worth?
Jeremiah 29:11-14
11 For I know the thoughts that I think toward you, says the Lord, thoughts of peace and not of evil, to give you a future and a hope. 12 Then you will call upon Me and go and pray to Me, and I will listen to you. 13 And you will seek Me and find Me, when you search for Me with all your heart. 14 I will be found by you, says the Lord, and I will bring you back from your captivity; I will gather you from all the nations and from all the places where I have driven you, says the Lord, and I will bring you to the place from which I cause you to be carried away captive.
God's Word is a spiritual mirror that reflects who you are. Scripture shows us two things about our identity.
1. We are spiritual beings living in the human flesh.
John 3:6 That which is born of the flesh is flesh, and that which is born of the Spirit is spirit.
Redemption has made divinity out of your humanity. There is no sickness, no sin in divinity. It's this revelation that gives you authority over devil and all forces of hell.
Romans 5:1  Therefore, having been justified by faith, we have peace with God through our Lord Jesus Christ,
Romans 5:17  For if by the one man's offense death reigned through the one, much more those who receive abundance of grace and of the gift of righteousness will reign in life through the One, Jesus Christ.
Isaiah 54:17
No weapon formed against you shall prosper,
And every tongue which rises against you in judgment
You shall condemn.
This is the heritage of the servants of the Lord,
And their righteousness is from Me,"
Says the Lord.
2. We are the redeemed ones as lions to prevail.
Proverbs 30:30 A lion, which is mighty among beasts And does not turn away from any;
Lions are bold. Every child of God is supposed to be like lion to live without fear. We are supposed to be bold.
Philippians 1:28 and not in any way terrified by your adversaries, which is to them a proof of perdition, but to you of salvation, and that from God.
The lion defines its territory. In the same way, we must define our territory and not allow any sickness or disease to touch our body.
With this, he led the audience into corporate worship and declared freedom from sickness and poverty. The Anointing was powerful. Praise God.