20-Feb-2005
I was waiting for the Korean Air flight at Mumbai airport. It was my first overseas trip.
In the television era, when internet access was rare, I didn't have any firsthand information about the country. The only thing that flashed in my mind about Korea was the summer Olympics held in Seoul, 1988.
After getting an offer letter from Samsung Electronics, S, Korea, I resigned from Zensar Technologies, Pune in January 2005.
On the 19th Feb, I flew from Baroda to Mumbai. I had a few hours stopover at Mumbai airport. I was curious about how the Korean culture would be. I was eager to meet some Korean people at the airport. While I was waiting, I met a Japanese girl, and she shared her photographs back in Japan. She had been to Korea. She shared her experience with Korean food. I didn't know how to cook, so I was nervous about how things will turn out.
I also met an Indian guy at the airport. He was working for Hyundai Motors in S. Korea. He was returning after his holidays in India and shared some good first-hand information about Korea.
Since I had excess luggage, I contacted the manager of Korean Airways on the recommendation of my friend, Regil.  He helped me get a business class seat that solved my excess luggage problem.
On the flight, during lunchtime, I didn't like Korean food. I realized I was going to a country where food would be a problem.
I arrived at the Incheon airport, 3:15 pm on 21-Feb-2005, Sunday. It was one of the coldest days. There were not many people at the airport. I was told 200 USD would be sufficient to covert to Korean WON. The company was taking care of my accommodation and food expenses. After exchanging cash, I was waiting for the taxi driver. It took me a while to find him. He was holding a board with my name on it. He could barely speak English. While driving, he told me his English was better than other Koreans. I realized communication would be another problem. The food was already one.
I reached my apartment after about 2 hours ride.  There were few Indian colleagues downstairs when I arrived – Alpesh Patel and Hari Varrier. They helped me take luggage to my flat and explained the operation of various devices. I didn't have any international calling cards to inform my parents about my arrival.
That night Nelson, Alpesh, Hari, and I went to buy a calling card. It was out of stock, and I couldn't make a call. It was the coldest night and one of the coldest winters I had ever experienced. I had only a leather jacket, barely sufficient to meet the minus 15 degrees Celsius.
I had the company provided food coupons. When I went to the cafeteria, I didn't like the food taste and aroma. I came back to my flat. Since I had got some foodstuffs from Baroda, I ate them heartily. I was cautious not to finish it off though.
After three days, Amit Sharma, one of the colleagues, came to stay in my flat. We had 3 bedrooms. We were supposed to arrive together but for some reason, he missed his flight. He was a good cook. I owe much of my present-day cooking skills to him. Since he had lived in Japan, he was aware of the food problems and came prepared with necessary foodstuffs and utensils.
The next day, we got some food items and household stuff from Homeplus Tesco. We also went to the Korean Folk Village. I expected to see Korean peasants there but was shocked to see it was a museum.
The best part I like about Korean people is their humility. They respect elders and follow orders. You will never see any street fight or people shouting at one another. Even if there are accidents, people stop their cars and resolve the matter peacefully.
Another good thing I like about Korea is the weather. There are four distinct seasons. It rains throughout the year and heavily during summer. You will not find any water-clogged places even during heavy rains. Winter is beautiful when it snows.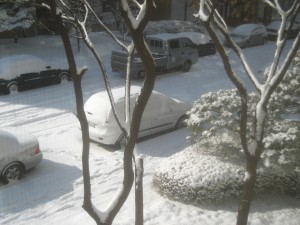 The  Metropolitan Subway of Korea is one of the best rapid transit systems in the world. They are cheap and punctual.
You will find girls highly fashionable. There are a plethora of shopping malls and cosmetics of all brands. No matter, how bad the economic situation, the clothing, and cosmetic industries will never be under recession.
Another amazing thing I found is their desire to learn the English language. It's mind-boggling to see an average family spending thousands of dollars on their kids to learn English.
In Korea, the definition of vegetarian is a bit different. If you order vegetarian food in the restaurants, don't be surprised if you find a few meat pieces.
There are no power cuts in this country which amazes me.
I loved attending worship service at the Onnuri Presbyterian Church, Yongin City. It was the best part of my life in Korea. I was active in the Church programs. After the service, we used to go to Junho or Malcolm's house to practice songs and occasionally go restaurants and have Korean food or Pizzas. Pizzas used to be my staple food there. I had never eaten so many pizzas in my life as I had in Korea. After a year or so, I started loving Korean food, especially Kimchi fried rice, bibimbap, Korean preparation of chicken and fish.
Karaoke (Norebang) is a popular pastime where people pay to sing on their own or with a group. We had it free on our campus, and I used to go occasionally during weekends and sing some of my favorite songs. The room features microphones and television screens where you can follow the lyrics of popular English/Korean songs.
Overall, I think, Korea is one of the best destinations in Asia. People are enthusiastic to learn English and meet people from a different culture. I see tremendous growth in this part of the world. Korea is leading in the manufacturing sector. Samsung, LG, Hyundai are some of the renowned Korean-based industries. Besides, there are a plethora of engineers, software developers, and technical people in this country. I also see tremendous opportunities for service industries to start a business in Korea.
If you have any questions, share your feedback below or email me at [email protected].