13th Jan 2013, Sunday
On Sunday, the 13th of Jan, Geenu and I attended the City Harvest Church at Singapore Expo Hall 1. Since we were late to take the MRT, we took a cab and reached 10 minutes earlier. The service started with beautiful praise and Worship.
The anointing was powerful during worship. After the praise and worship, Pastor Aries welcomed Pastor Phil Pringle, Advisory Pastor of City Harvest Church and the Founder and President of C3 Church International, on the stage. Pastor Phil started with the principle of giving and receiving. He encouraged people to give offering always with a cheerful heart, for God loves a cheerful giver. After the offering time, he asked the CHC pastors and board members to come on the stage and requested all the people to stand up and pray for them. The anointing of God was powerful as he led the people into worship. He prayed for each members on the stage and they fell under the power of God. He also prayed for the healing and deliverance for those in need. The Presence of God was beautiful beyond description.
After the prayer, Pastor Phil shared the sermon on "Momentum" in a believer's life.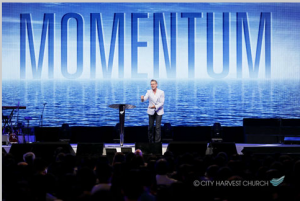 He used the sport of sailing to explain the concept of momentum. "It doesn't matter which wind flows in your life, if you understand momentum and set your sails right, nothing is going to stop you" quoted Pastor Phil. He shared an example of Yacht, how the sails are set based on the wind. No matter which direction the wind blows, it doesn't stop the Yacht. Similarly in every believer's life, no matter what opposition or problems you face, nothing must stop you from moving forward.
Momentum, however, is not easy to regain once it is lost. "Just like a car stuck in soft sand, no matter how much the engine moves, the car is not going anywhere. But when we rock the car back and forth, gaining momentum, the car will get out of the sand and move forward."
Pastor Phil mentioned "You and I are born to worship". Whether you believe in God or not, everybody worships somebody or something. People who believe in God, worship the Living God and people who do not believe in God worship objects or something that fascinates them but the fact remains our souls are wired to worship.
When God introduced laws in this world, the flesh reacted in a negative way. In all of us there is a nature that knows how to do wrong things in life. The first step to achieve great things in life is God Encounter. People must receive the power of God to live the messages.
Christian life is impossible without the power of the Holy Spirit, said Pastor Phil. He exhorted members not to get stuck in the past. You must have a momentum to move forward. When you're stuck, you must try your best, push forward, give maximum effort be it in your Christian life or marriage or business endeavors. When you're moving forward, God will bless you and favor will come in your life.
Galatians 3:5-6
New King James Version (NKJV)
5 Therefore He who supplies the Spirit to you and works miracles among you, does He do it by the works of the law, or by the hearing of faith?— 6 just as Abraham "believed God, and it was accounted to him for righteousness."[a]
God asks you to do impossible things. Without a vision, people perish. Ask God what you should be doing? God asked Gideon to defeat the Midianites with just 300 people.
Matthew 10:8
New King James Version (NKJV)
8 Heal the sick, cleanse the lepers, raise the dead,[a] cast out demons. Freely you have received, freely give.
"God doesn't respond to your need but to your Faith. Stop whining, stop complaining, step into Faith and talk confidently, be courageous and talk confidently.  The Holy Spirit in you brings God's favor in your life. When you receive Him, He will do all impossible things through you. " exhorted Pastor Phil.
God moves when you move. God will empower you to do the impossible.
Acts 14:8-10
New King James Version (NKJV)
8 And in Lystra a certain man without strength in his feet was sitting, a cripple from his mother's womb, who had never walked. 9 This man heard Paul speaking. Paul, observing him intently and seeing that he had faith to be healed, 10 said with a loud voice, "Stand up straight on your feet!" And he leaped and walked.
Pastor Phil challenged the people to do impossible things in your life which is beyond anyone's imagination through Faith and Word of God. He prophesied " This year you're gonna do impossible things in your life". He challenged the people who had not accepted Jesus as their Savior to come forward and accept the gift of Salvation by accepting Jesus as their Savior.  People, young and old, diferent nationalites, thronged forward at the invitation.
The service finally ended with beautiful praise. Since it was raining profusely after the service, we headed back home by MRT. Before heading home, we had burger and french fries from Bishan Junction 8.
Praise God for an awesome time 🙂