25th Aug 2013, Sunday
Today, I attended the City Harvest Church service at the Suntec Convention Center. I took the bus 162M from Sin Ming avenue and reached the venue at 9:40 am. The pre-service prayer was going on as I entered the hall. At sharp 10 am, the service started with beautiful praise and worship. The anointing was awesome during the worship.
During worship, Pastor Kong came on stage and encouraged the Church to linger into the Presence of God. That's the one thing I like – his sensitivity to the Holy Spirit and leading the congregation unto the Holy of Holies.
After Praise and Worship, he shared the sermon entitled "More than a Conqueror" by taking the example of David from the Bible. David was a conqueror. Conquering was his consistent lifestyle. He overcame trials again and again. Apostle Paul went through many difficulties, but he conquered them every time.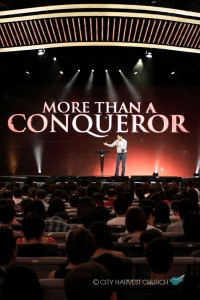 Romans 8:35-37
35 Who shall separate us from the love of Christ? Shall tribulation, or distress, or persecution, or famine, or nakedness, or peril, or sword? 36 As it is written:
"For Your sake we are killed all day long;
We are accounted as sheep for the slaughter."[a]
37 Yet in all these things we are more than conquerors through Him who loved us.
Conquerors go through challenging times. Consistent Conquering has its root in God. Conquerors are not man made but by God.
In the natural, David didn't look like a conqueror but yet he was a conquering king. He never sustained any serious injury during his life time.
David was Appointed and Anointed by God !
Pastor Kong mentioned you are not just appointed but also Anointed. When you go through challenges, you will get the anointing proportionate to your challenges. Be it a problem at your work place or family or health, God will give you the anointing proportionate to challenges you face.
1 Samuel 17:8, 24  Then he stood and cried out to the armies of Israel, and said to them, "Why have you come out to line up for battle? Am I not a Philistine, and you the servants of Saul? Choose a man for yourselves, and let him come down to me. 
24 And all the men of Israel, when they saw the man, fled from him and were dreadfully afraid.
Your Goliath may be bankruptcy, divorce, or health issue said Pastor Kong. He encouraged the audience to face everything boldly and arise !
4 things David did to overcome Goliath:
David maintained a winning attitude. He put on the helmet of salvation.1 Samuel 17:26, 36

Then David spoke to the men who stood by him, saying, "What shall be done for the man who kills this Philistine and takes away the reproach from Israel? For who is this uncircumcised Philistine, that he should defy the armies of the living God?36 Your servant has killed both lion and bear; and this uncircumcised Philistine will be like one of them, seeing he has defied the armies of the living God.

God knows how we think. Our intercession will only work if it is backed up by positive thoughts. Prayer is only 30% verbal and 70% thoughts.Stay Positive in your thoughts.

David visualized Goliath defeated. Visions and dreams are the language of the Holy Spirit. We must learn to walk in visions and dreams.Luke 10:18-19 18 And He said to them, "I saw Satan fall like lightning from heaven. 19 Behold, I give you the authority to trample on serpents and scorpions, and over all the power of the enemy, and nothing shall by any means hurt you.

We must visualize our success.

David really believed in God.

Psalms 1:1-3
Blessed is the man
Who walks not in the counsel of the ungodly,
Nor stands in the path of sinners,
Nor sits in the seat of the scornful;
2 But his delight is in the law of the Lord,
And in His law he meditates day and night.
3 He shall be like a tree
Planted by the rivers of water,
That brings forth its fruit in its season,
Whose leaf also shall not wither;
And whatever he does shall prosper.

He loved the Word of God. More than half of the 150 Psalms in Bible were written by King David. Faith is vocal, what you say reveals your belief.

David kept speaking out what he believed.1 Samuel 17:47 Then all this assembly shall know that the Lord does not save with sword and spear; for the battle is the Lord's, and He will give you into our hands.". Mark 11:23 For assuredly, I say to you, whoever says to this mountain, 'Be removed and be cast into the sea,' and does not doubt in his heart, but believes that those things he says will be done, he will have whatever he says.
David didn't stop at one victory, he kept on winning. Conquering was his lifestyle for 40 years. His faith in God never wavered.
Whatever Goliath you are facing, you are more than a conqueror in Christ. Stay positive in your thoughts, visualize success, Believe and Speak it out again and again said Pastor Kong concluding the sermon.  Finally, he led the congregation into worship before partaking the Holy Communion. The anointing of God was awesome.
1 Corinthians 11:25 In the same manner He also took the cup after supper, saying, "This cup is the new covenant in My blood. This do, as often as you drink it, in remembrance of Me.
Praise God for a wonderful time 🙂