On the 26th of May 2013, 10 am, I attended the City Harvest Church service at Singapore Expo Hall 1. The service started with beautiful praise and worship. The anointing was awesome during worship. The Presence of God was beautiful beyond description.
After praise and worship, Pastor Kong invited Advisory Pastor Phil Pringle on stage to share the Word of God. Pastor Phil thanked the audience for their greetings. He encouraged the audience to give cheerfully for the Gospel.
Malachi 3:10 
Bring all the tithes into the storehouse,
That there may be food in My house,
And try Me now in this,"
Says the Lord of hosts,
"If I will not open for you the windows of heaven
And pour out for you such blessing
That there will not be room enough to receive it.
11 "And I will rebuke the devourer for your sakes,
So that he will not destroy the fruit of your ground,
Nor shall the vine fail to bear fruit for you in the field,"
Says the Lord of hosts;
12 "And all nations will call you blessed,
For you will be a delightful land,"
Says the Lord of hosts.
He started the sermon by mentioning that there is a large difference between Jesus is the Lord and Jesus is My Lord. Jesus is the King of Kings, the Lord of Lords. He has the power to forgive sins. He is the head of the Church. He is the supreme ruler. God has given Him all authority.
Matthew 28:18
18 And Jesus came and spoke to them, saying, "All authority has been given to Me in heaven and on earth.
All this information is pointless, if He is not my Lord. It's pointless to know Jesus as savior unless He's my Savior. When He's my Savior, it means Jesus took the cross and died for me. But when He's my Lord, it's about I taking the cross and dying for Him.
Pastor Phil then shared his experience of hiring a dog trainer to train his new dog.  Before the dog was trained, the dog got whatever it wanted by barking ferociously. But after training, it behaved in a civilized manner.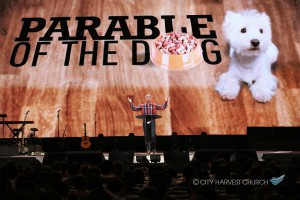 It's the same thing in every believer's life. God puts a vision before us, but before we can accomplish the vision, we are molded, we are perfected before we can perform His work.  Before we can achieve our destiny, we must become a person God wants us to be.
Romans 8:29
29 For whom He foreknew, He also predestined to be conformed to the image of His Son, that He might be the firstborn among many brethren
Philippians 1:6
6 being confident of this very thing, that He who has begun a good work in you will complete it until the day of Jesus Christ;
Ephesians 2:10
10 For we are His workmanship, created in Christ Jesus for good works, which God prepared beforehand that we should walk in them.
All these scriptures talk about God doing work in you and changing you. There is always a point in life you'll wrestle with God.  In order to be obedient we need to be submissive to the hand of God. God is an artist, we are His workmanship.
God tells Jeremiah to go to the Potter's house and observe the clay being molded.
Jeremiah 18
18 The word which came to Jeremiah from the Lord, saying: 2 "Arise and go down to the potter's house, and there I will cause you to hear My words." 3 Then I went down to the potter's house, and there he was, making something at the wheel. 4 And the vessel that he made of clay was marred in the hand of the potter; so he made it again into another vessel, as it seemed good to the potter to make.
5 Then the word of the Lord came to me, saying: 6 "O house of Israel, can I not do with you as this potter?" says the Lord. "Look, as the clay is in the potter's hand, so are you in My hand, O house of Israel! 7 
It's the same thing in a believer's life. Like clay in the Potter's hand, we too are molded by the hand of God, before we can be effective for His Kingdom.
Isaiah 48:10
Behold, I have refined you, but not as silver;
I have tested you in the furnace of affliction.
Before the oil can extracted, the Olive has to be crushed. Nobody enjoys the pain. The greatest gift is to follow His will. Jesus obeyed.
Hebrews 5:8-9 8 though He was a Son, yet He learned obedience by the things which He suffered.9 And having been perfected, He became the author of eternal salvation to all who obey Him,
Billions of people are saved due to obedience of Jesus Christ to the will of the Father.  We must have total obedience in every area of our lives. We must not be stuck in salvation but we must make Him our Lord ! For Christ to live, "I" must die. When Christ lives in you, you find yourself doing His will.
After the message, Pastor Phil asked the worship team to lead the worship and invited people who wanted to accept Jesus as their Savior to come on stage. People, young and old, responded to the altar call and accepted Jesus as their savior.  Later Pastor Kong led the people into worship. The anointing was awesome at that moment. Finally the service ended with a beautiful praise song. Alleluia 🙂