On the 18th Aug 2013, Sunday, I attended the City Harvest Church service at the Suntec Convention Center. The service started at 10 am with beautiful Praise and Worship. The Anointing of God was awesome and the Presence of God beautiful during worship.
After Praise and Worship, Pastor Kong Hee shared the sermon on "Power of Focus".  He started with the example of Steve Jobs who revolutionized the IT industry through his remarkable ability of focus by producing simple, elegant, and high quality gadgets.
Focus means no to other ideas. The secret to concentration is elimination, cutting off every distraction. Narrower the edge, sharper the knife. When the edge is broad, it cannot cut effectively. Similarly, narrower the focus, further you can go for the Glory of God.
Luke 11:34 The lamp of the body is the eye. Therefore, when your eye is good, your whole body also is full of light. But when your eye is bad, your body also is full of darkness.
The eye is the point of vision. When your eye is "single", your vision is focused. And when your vision is focused, you will shine. Distraction is danger of us losing the will of God.
John 21:17-19 
17 He said to him the third time, "Simon, son of Jonah,[a] do you love Me?" Peter was grieved because He said to him the third time, "Do you love Me?" And he said to Him, "Lord, You know all things; You know that I love You."Jesus said to him, "Feed My sheep. 18 Most assuredly, I say to you, when you were younger, you girded yourself and walked where you wished; but when you are old, you will stretch out your hands, and another will gird you and carry you where you do not wish." 19 This He spoke, signifying by what death he would glorify God. And when He had spoken this, He said to him, "Follow Me
John 21:20-22 
20 Then Peter, turning around, saw the disciple whom Jesus loved following, who also had leaned on His breast at the supper, and said, "Lord, who is the one who betrays You?"21 Peter, seeing him, said to Jesus, "But Lord, what about this man?" 22 Jesus said to him, "If I will that he remain till I come, what is that to you? You follow Me." 23 Then this saying went out among the brethren that this disciple would not die. Yet Jesus did not say to him that he would not die, but, "If I will that he remain till I come, what is that to you?"
Peter was distracted by John. John was the beloved of Jesus. Peter found threatened by John. Pastor Kong advised don't get distracted by others. We are easily distracted by what others are doing. We need to take our vision off from what distracts us and focus on the vision that God has for us.
Matthew 11:2-6
Now it came to pass, when Jesus finished commanding His twelve disciples, that He departed from there to teach and to preach in their cities. 2 And when John had heard in prison about the works of Christ, he sent two of[a] his disciples 3 and said to Him, "Are You the Coming One, or do we look for another?" 4 Jesus answered and said to them, "Go and tell John the things which you hear and see:5 The blind see and the lame walk; the lepers are cleansed and the deaf hear; the dead are raised up and the poor have the gospel preached to them. 6 And blessed is he who is not offended because of Me."
John the Baptist, got slightly distracted by voices outside. Pastor Kong stressed, you need mental strength, emotional fortitude, spiritual anointing to keep focus.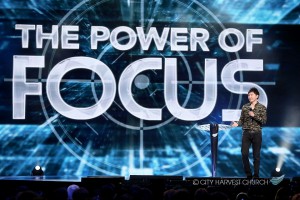 3 Areas to keep Focus:
Focus on Prayer – Asking, Seeking and Knocking. Psalm 27:4
One thing I have desired of the Lord,
That will I seek:
That I may dwell in the house of the Lord
All the days of my life,
To behold the beauty of the Lord,
And to inquire in His temple.

Focus on Revelation Matthew 16:18
And I also say to you that you are Peter, and on this rock I will build My church, and the gates of Hades shall not prevail against it.Pastor Kong shared the example of Charlie Lazarus for his passion for Toys. He created Toysarus. He stayed focused on the revelation. Success is all about focus and not hocus pocus. You got to stay focused. What is the one revelation that God has given to you and you are passionate about? That's the vision you need to focus on again and again.
Focus on Action.Philippians 3:13
Brethren, I do not count myself to have apprehended; but one thing I do, forgetting those things which are behind and reaching forward to those things which are ahead,
After the service, he led the congregation into beautiful worship. Praise God for a wonderful time 🙂