15th September, 2013
Today, I attended the City Harvest Church service at Suntec Convention Center. The service started with beautiful Praise and Worship led by the SOT students graduating this year. I was awed by their beautiful voices glorifying God. After Praise and Worship, Pastor Kong invited Dr. A.R. Bernard from New York, to share the Word of God. The audience gave him a rousing welcome as he took the stage. He spoke on Leadership quoting examples from the Bible. Leadership is a bad weather job. Nobody cares until things go wrong.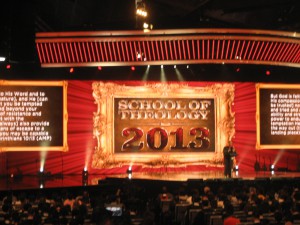 Jesus demonstrated a particular type of leadership while on Earth. He had no army, no governmental position. He had constant conflicts with the religious community. But what made Him so powerful is that He exercised personal power.
There is a positional power, by the position you hold. This is authoritative leadership, that tends to be dominant and dictatorial. It gets people to comply.
Jesus although he had authority, he developed relationship. Relational leader speaks of personal power. That's the style of ministry Jesus demonstrated.
Personal Power connects with people emotionally and intellectually. Personal Power and Relational Leadership moves people by relationship. People change because of relationship and not by authority.
Ministry is People. Without people, there is no ministry. In order to win people to Christ, you must first win over them.
God determines the type of leader based on the need. God raised David when Israel needed a strong leader. But when the time came to build Temple, God raised a leader like Solomon.
2 Chronicles 1:9-10
9 Now, O Lord God, let Your promise to David my father be established, for You have made me king over a people like the dust of the earth in multitude. 10 Now give me wisdom and knowledge, that I may go out and come in before this people; for who can judge this great people of Yours?"
Solomon had positional power, he had the authority, but he understood he needed the relationship. It would require sensitivity to people in order to be a successful leader.
Your leadership will be respected when you engage in personal relationship. People are connected when there is a relationship. Jesus loved People.
Personal Relationship connects people at 3 levels:
Psychological level
Emotional level
Motivational level
As humans, we suffer from the inability to love people and to be loved. How can we love our neighbors if we don't love ourselves?
4 important qualities in leadership:
Character
Chemistry
Competence
Resilience
4 qualities of Resilient people:
Passion for what they do, passion for their visions and dreams, willingness to go extra mile, ability to sacrifice.
Walk in forgiveness – Resilient people forgive not only others but also themselves.
Live in Hope – They are optimistic about future. Resilient people strong believe they can achieve the future they are hoping for.
Ability to encourage themselves – They know how to encourage themselves in the Lord. They are open to constructive criticism.