Summer, 1988
I enjoyed my childhood days at 108 Vithlesh apartment. I had a large troop of friends and we were avid cricket players. We dreamed of playing for the Indian cricket team when we grew big. Our heroes were Kapil Dev, Sunil Gavaskar, Srikanth.
After finishing my 5th standard, we shifted to our new house address: A-1-16, Priyadarshini Nagar, Makarpura Road, Baroda. It was an independent house, with a small garden that grew roses, jasmine, papaya, pomegranate, and passion fruit.
Amma was passionate about gardening.
We lived in the Priyadarshini colony for the next 17 years, from 1988 to 2005 with wonderful neighbors who became an integral part of our family.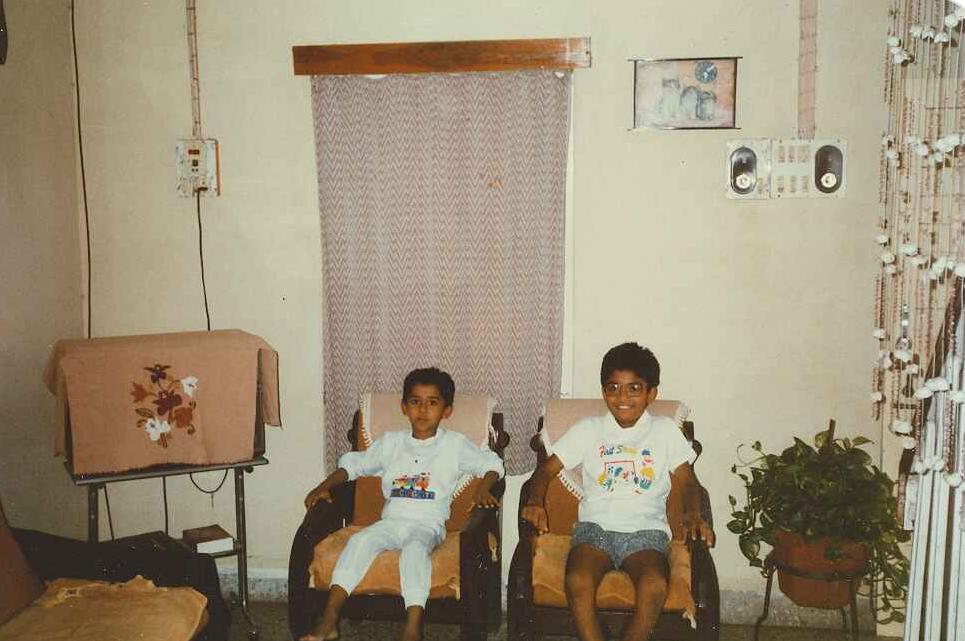 I remember the construction work at the Priyadarshini Nagar. Ashish, Vivek, and I used to visit occasionally, to see the construction of our new house. It was like a picnic for us to travel from Vithlesh apartment. I used to sit on Ashish's cycle as he rode. We used to have samosas from the Gopal store. It was a rare delicacy for me in those days.
Near to our new colony were Don Bosco school, Auxilium Convent, Bhavans Kendriya Vidyalaya, Mother Teresa Ashram, Mount Carmel Church, Sussen Textiles, Novina Batteries, GIDC industrial estate.
After moving to Priyadarshini Nagar, in the initial years, we had Parsi and Bengali neighbors. I remember an incident while playing cricket with a neighbor friend; I accidentally hit the car headlights and it broke. After that incident, I stopped playing cricket in front of the house. I loved the Parsi aunty's food.
After they finished the tenure of their rent, Uthup Uncle and family lived there. We played cards, caroms, and monopoly during the Diwali/school holidays.
We also had other Malayalee neighbors.
Occasionally, I used to attend the Jacobite Church at the Don Bosco school with my parents. It was torture for me to attend the church service as I was not able to understand the language.
In the evening, I used to play cricket with my colony friends.
After moving to our new address, mom and I used to visit the Vithlesh apartment. It was fun to be with my old friends – Kunjan, Jigar, and Nilesh. We played cricket whenever we got a chance.
I once scored low marks in the Gujarati language. Mother asked me if I was aware of the marks. Out of fear, I said no. I wanted her to know about it during the parent-teacher meeting. But when we went to Vithlesh apt, she came to know that Gujarati marks were already disclosed and I had hidden it from her. Although I managed to pass, it was not as good as rest of the subjects.
During my 6th std, I got a new bicycle. Ashish rode it all the way from the shop to our house. The tire got punctured when it reached home. Dad and I took the cycle the next day evening to repair.
My school was a bit far from our new house. An auto-rickshaw used to take me and my brother along with other kids. I think there were about eight school kids in that rickshaw.
Change of School
After 7th, I moved to Shreyas Vidyalaya, Samarpan at the Manjalpur road. The new school was near our new house. I used to take a public bus. Sometimes I used to ride on my bicycle to school.
I remember my first day in the 8th std. It was a different environment with new friends, new teachers, and a new location. When the teachers were absent or didn't show up for teaching, we used to go down and play cricket. The school walls were scribbled with names of some of the teachers such as babu, mammu.
It was in 1990 when I was in the eighth standard; the school was impacted by the Mandal Commission. The newspapers carried reports of self-immolation in protest against the reservation system implemented by the V.P Singh government. We had long holidays. Deepak and I used to do combine studies during that time.
English was my favorite subject. And I liked English teachers.
I remember playing cards with our neighbors during the Diwali holidays.
Mom and ladies from the neighborhood would gather every evening.
During Christmas, our house was flooded with guests. Mom prepared cakes and other eateries before Christmas.
During Good Friday, we used to go to a Jacobite Church at the Basil School, Old Padra Road, and be there from morning till evening.
I remember watching  Ramayana, Mahabharata, and Tipu Sultan on the Doordarshan channel, on Sunday mornings.
We had a housemaid who used to come daily for cleaning and washing. The vegetable sellers would pass by our house in the morning. We used to buy grocery items from the Gopal store.
During the eighth standard school vacation, in 1991, we went to Kerala. It was during that time; Rajiv Gandhi was assassinated. I was at my dad's place when this happened.
In the 9th std, I had maths tuition. At school, Navle madam taught maths, English was taught by P.G. Bhatt, and Sanskrit by Kalpana madam.
Every week, we had to speak on some topic during our English class. I spoke about "Empowering Women at the Work Place". We also had Drawing as one of the subjects. I was never good at drawing.
In X, I enrolled in the Vinayak tuition at Anandbaug. We had Typewriting as one of the subjects. I used to practice on a Remington typewriter. Life in X was all about attending school, tuition, and studying.
In the first term exam, I scored well but in the second term, my rank slipped. During the last few months before the board exam, dad helped me prepare for exams. He used to take tests frequently.
I remember the day I appeared for the X board exam. The first paper was English, which I did well. The second paper was Maths; it was difficult for me. The rest of the papers were relatively easy. After the examination, we went to Kottayam. When we returned to Baroda, the results were declared. I scored overall 75% by God's grace. The marks that I scored in each subject were exactly what I had prayed for.
In XI, we had Hussein sir who taught English; Saffi madam taught Chemistry, Pandya sir taught Maths. I used to go on cycle for Maths tuition at Pandya sir's place.
In XII, life was chaotic. Every day I had one or two tuitions – Physics, Chemistry, Maths, Biology, all at different places. On early Sunday mornings, I had practical tuitions for Chemistry, Biology, and Physics. I used to go on my bicycle everywhere. After tuitions, I would be dozing off during study time. Some days, I would leave school early to prepare for the tuition exams. Time was precious.
Despite my best efforts, I did not perform well in the school and tuition exams.
During the board exam, Appa used to come with me to the examination venue. By God's favor, I performed better in the final year board exam than in the tuition or preliminary school exams. It's a miracle that I scored 62%. Without God's favor, I would have definitely failed. But I was disappointed about not getting a seat in Engineering or Medicine.
To be continued.