On 24th March 2013, Sunday, I attended the City Harvest Church at Singapore Expo Hall 1 for the 10 am service. The service started with beautiful Praise and Worship. The Anointing was powerful during worship.
After praise and worship, one of the leaders prophesied that just as the Angel of God removed the stone from the tomb of Jesus, God will remove all the hindrances in your way.
During the offering time, audience gave cheerfully for the Kingdom of God. Pastor Kong mentioned that God tests when we have little. Luke 12:24-31
24 Consider the ravens: for they neither sow nor reap; which neither have storehouse nor barn; and God feedeth them: how much more are ye better than the fowls? 25 And which of you with taking thought can add to his stature one cubit? 26 If ye then be not able to do that thing which is least, why take ye thought for the rest? 27 Consider the lilies how they grow: they toil not, they spin not; and yet I say unto you, that Solomon in all his glory was not arrayed like one of these. 28 If then God so clothe the grass, which is to day in the field, and to morrow is cast into the oven; how much more will he clothe you, O ye of little faith? 29 And seek not ye what ye shall eat, or what ye shall drink, neither be ye of doubtful mind. 30 For all these things do the nations of the world seek after: and your Father knoweth that ye have need of these things. 31 But rather seek ye the kingdom of God; and all these things shall be added unto you.
2 Corinthians 9:6-8
6 But this I say, He which soweth sparingly shall reap also sparingly; and he which soweth bountifully shall reap also bountifully. 7 Every man according as he purposeth in his heart, so let him give; not grudgingly, or of necessity: for God loveth a cheerful giver. 8 And God is able to make all grace abound toward you; that ye, always having all sufficiency in all things, may abound to every good work:
2 Corinthians 9:9-10
9 (As it is written, He hath dispersed abroad; he hath given to the poor: his righteousness remaineth for ever. 10 Now he that ministereth seed to the sower both minister bread for your food, and multiply your seed sown, and increase the fruits of your righteousness;)
After the offering, Pastor Kong shared the sermon on "What Happened from the Cross to the Throne?". Jesus died after being hung on the cross for about six hours. The veil of the temple was torn into two pieces. This signified that the way into the Holy of Holies was made possible to all men through the blood of Jesus Christ. Now all men can find God and have access to Him without priests.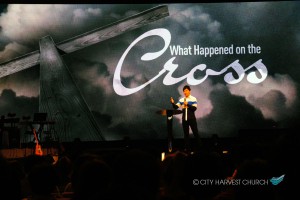 Pslam 22:1-6 portrays the graphic picture of crucifixion:
My God, my God, why hast thou forsaken me? why art thou so far from helping me, and from the words of my roaring? 2 O my God, I cry in the day time, but thou hearest not; and in the night season, and am not silent.3 But thou art holy, O thou that inhabitest the praises of Israel. 4 Our fathers trusted in thee: they trusted, and thou didst deliver them. 5 They cried unto thee, and were delivered: they trusted in thee, and were not confounded. 6 But I am a worm, and no man; a reproach of men, and despised of the people.
As Moses lifted up the serpent, Jesus was lifted up on the Cross for the sins of the world.  Since the Sabbath was approaching, the Jews wanted all hanging on the cross to die before the Sabbath. So the soldiers broke the legs of the thieves and they died but when they came to Jesus, they found He was already dead. And to make sure Jesus was dead, a Roman soldier pierced the side of Jesus.
John 19:34
34 But one of the soldiers with a spear pierced his side, and forthwith came there out blood and water.
What happened during 3 days and 3 nights when Jesus' body was in the tomb?
Isaiah 53:2-6
2 For he shall grow up before him as a tender plant, and as a root out of a dry ground: he hath no form nor comeliness; and when we shall see him, there is no beauty that we should desire him.
3 He is despised and rejected of men; a man of sorrows, and acquainted with grief: and we hid as it were our faces from him; he was despised, and we esteemed him not.
4 Surely he hath borne our griefs, and carried our sorrows: yet we did esteem him stricken, smitten of God, and afflicted.
5 But he was wounded for our transgressions, he was bruised for our iniquities: the chastisement of our peace was upon him; and with his stripes we are healed.
6 All we like sheep have gone astray; we have turned every one to his own way; and the Lord hath laid on him the iniquity of us all.
Jesus went on the cross not only to cleanse ours sins but also to heal us from sickness quoted Pastor Kong.
Isaiah 53:9
9 And he made his grave with the wicked, and with the rich in his death; because he had done no violence, neither was any deceit in his mouth.
Psalm 88:7
7 Thy wrath lieth hard upon me, and thou hast afflicted me with all thy waves. Selah
2 Corinthians 5:21
21 For he hath made him to be sin for us, who knew no sin; that we might be made the righteousness of God in him.
The moment we receive Jesus into our life by Faith, we become righteous through Jesus Christ. We can stand in the Presence of God without any sense of guilt, condemnation or inferiority.
1 Timothy 3:16
16 And without controversy great is the mystery of godliness: God was manifest in the flesh, justified in the Spirit, seen of angels, preached unto the Gentiles, believed on in the world, received up into glory.
1 Peter 3:18
18 For Christ also hath once suffered for sins, the just for the unjust, that he might bring us to God, being put to death in the flesh, but quickened by the Spirit
Colossians 2:15
15 And having spoiled principalities and powers, he made a shew of them openly, triumphing over them in it.
During the 3 days,  His body went to the tomb and He went to paradise with the penitent criminal. Christ descended first into Hell, into the lower parts of the earth, then captured the righteous souls from Satan, leading them captive to Heaven when He ascended on high. He conquered the death, hell and grave.
Mark 3:27
27 No man can enter into a strong man's house, and spoil his goods, except he will first bind the strong man; and then he will spoil his house.
Hebrews 2:14
14 

For as much then as the children are partakers of flesh and blood, he also himself likewise took part of the same; that through death he might destroy him that had the power of death, that is, the devil;
What happened at Resurrection?
Revelation 1:18
18 I am he that liveth, and was dead; and, behold, I am alive for evermore, Amen; and have the keys of hell and of death.
The Keys indicate the authority over sin, death, sickness and Satan. Jesus took the keys of Hades and rose from the death. He conquered death and grave.
Matthew 28:5-6
5 And the angel answered and said unto the women, Fear not ye: for I know that ye seek Jesus, which was crucified. 6 He is not here: for he is risen, as he said. Come, see the place where the Lord lay.
Matthew 20:15-17
15 Jesus saith unto her, Woman, why weepest thou? whom seekest thou? She, supposing him to be the gardener, saith unto him, Sir, if thou have borne him hence, tell me where thou hast laid him, and I will take him away.
16 Jesus saith unto her, Mary. She turned herself, and saith unto him, Rabboni; which is to say, Master.
17 Jesus saith unto her, Touch me not; for I am not yet ascended to my Father: but go to my brethren, and say unto them, I ascend unto my Father, and your Father; and to my God, and your God.
What happened during the 40 days?
Hebrews 9:12
12 Neither by the blood of goats and calves, but by his own blood he entered in once into the holy place, having obtained eternal redemption for us.
Jesus went to the Holy of Holies to present His Blood to the Father. Because of which, we are accepted before the Father in Jesus.
Ephesians 1:6
6 To the praise of the glory of his grace, wherein he hath made us accepted in the beloved.
Hebrews 9:15
15 And for this cause he is the mediator of the new testament, that by means of death, for the redemption of the transgressions that were under the first testament, they which are called might receive the promise of eternal inheritance.
Hebrews 10:1-4
For the law having a shadow of good things to come, and not the very image of the things, can never with those sacrifices which they offered year by year continually make the comers thereunto perfect. 2 For then would they not have ceased to be offered? because that the worshippers once purged should have had no more conscience of sins. 3 But in those sacrifices there is a remembrance again made of sins every year. 4 For it is not possible that the blood of bulls and of goats should take away sins.
Hebrews 10:3-4
3 But in those sacrifices there is a remembrance again made of sins every year. 4 For it is not possible that the blood of bulls and of goats should take away sins.
Romans 8:1
8 There is therefore now no condemnation to them which are in Christ Jesus, who walk not after the flesh, but after the Spirit.
Romans 5:1
 Therefore being justified by faith, we have peace with God through our Lord Jesus Christ
2 Corinthians 5:17
17 Therefore if any man be in Christ, he is a new creature: old things are passed away; behold, all things are become new.
2 Corinthians 5:21
21 For he hath made him to be sin for us, who knew no sin; that we might be made the righteousness of God in him
Even if we sin, what do we do? 1 John 2:1  My little children, these things write I unto you, that ye sin not. And if any man sin, we have an advocate with the Father, Jesus Christ the righteous:
1 John 1:9 If we confess our sins, he is faithful and just to forgive us our sins, and to cleanse us from all unrighteousness
Confession and Repentance are the keys for restoration, mentioned Pastor Kong. Condemnation is the number one weapon of Satan. More than 500 men witnessed the resurrection of Jesus apart from the disciples.
Acts 1:8-11
8 But ye shall receive power, after that the Holy Ghost is come upon you: and ye shall be witnesses unto me both in Jerusalem, and in all Judaea, and in Samaria, and unto the uttermost part of the earth.
9 And when he had spoken these things, while they beheld, he was taken up; and a cloud received him out of their sight.
10 And while they looked stedfastly toward heaven as he went up, behold, two men stood by them in white apparel;
11 Which also said, Ye men of Galilee, why stand ye gazing up into heaven? this same Jesus, which is taken up from you into heaven, shall so come in like manner as ye have seen him go into heaven.
Christ led the body of captives to heaven from the lower parts of the earth. The captives that were taken to heaven with Christ were the saints who had died from Abel to Christ and who were held captive by Satan in paradise (Luke 23:43) under the earth until Christ conquered death, hell and the grave liberating them. Now when a Christian dies he does not go into the lower parts of the earth to be held captive, but goes to heaven to live and await the resurrection of the body.
What Happened in the Upper Room?
Acts 2:4
4 And they were all filled with the Holy Ghost, and began to speak with other tongues, as the Spirit gave them utterance.
1 Corinthians 3:16
16 Know ye not that ye are the temple of God, and that the Spirit of God dwelleth in you?
2 Corinthians 5:17
17 Therefore if any man be in Christ, he is a new creature: old things are passed away; behold, all things are become new.
The devil saw a new specie, a new race. Men received the authority to use the name of Jesus. Men could stand boldly before the Presence of God.
After the sermon, Pastor Kong led the people into worship. Under the Anointing, he rebuked the spirit of sickness and disease and prayed for healing, deliverance and financial breakthrough. People held hands and prayed corporately. It was awesome time.
Praise God for a wonderful time 🙂