On the 10th of Nov 2013, Sunday, Abigail, Geenu and I, attended the final session of Tinu George's meeting organized by the City Revival Church at the Bible Society of Singapore, City Hall.
The service started at 2:45 pm with beautiful praise and worship. After praise and worship, Pastor Tinu George, from Kottarakara, Kerala shared the sermon on Discipleship.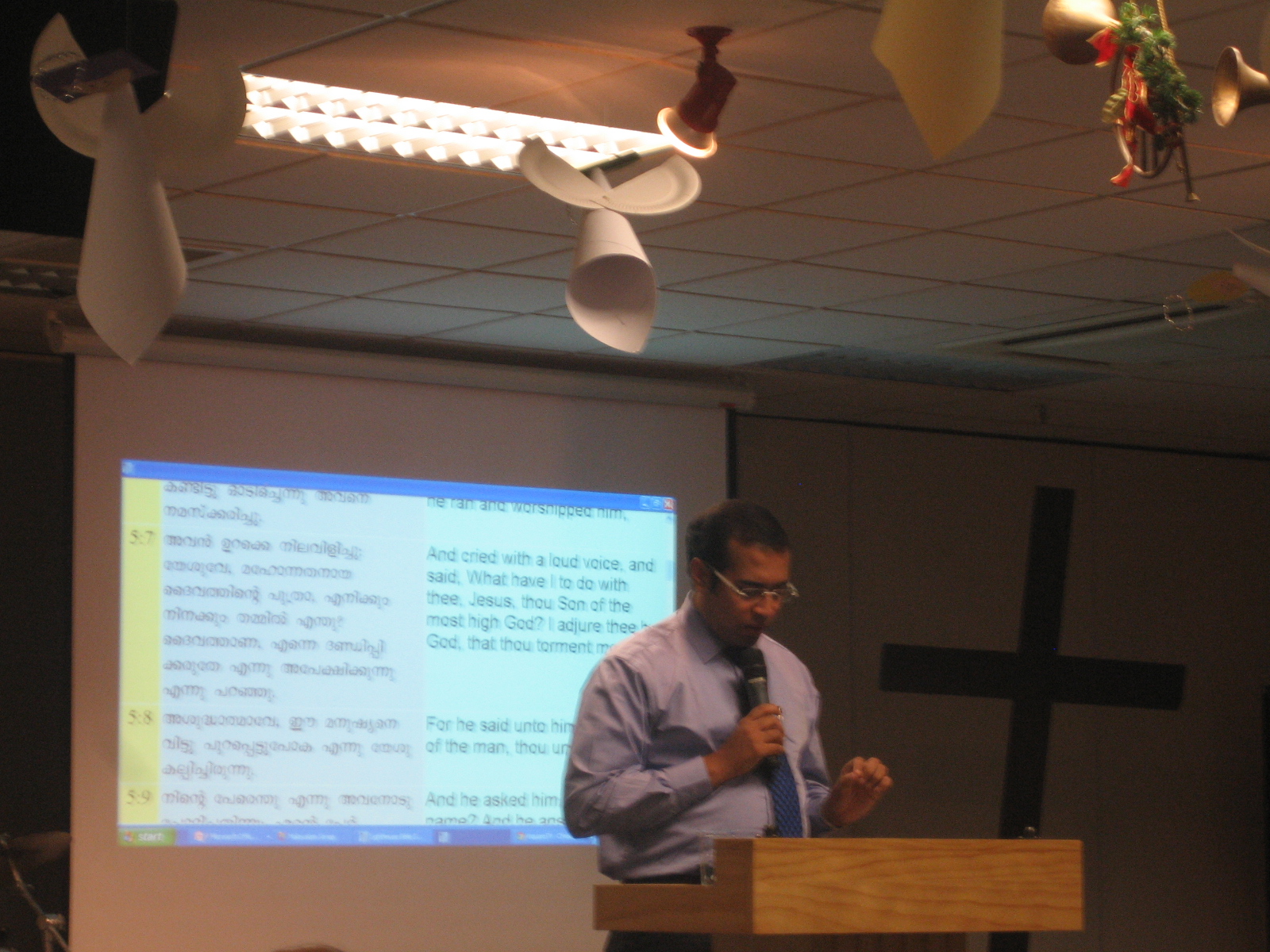 Matthew 28:18-20 And Jesus came and spake unto them, saying, All power is given unto me in heaven and in earth. 19 Go ye therefore, and teach all nations, baptizing them in the name of the Father, and of the Son, and of the Holy Ghost:20 Teaching them to observe all things whatsoever I have commanded you: and, lo, I am with you always, even unto the end of the world. Amen.
Baptism is the door to discipleship, quoted Pastor Tinu George.
Acts 11:26 And when he had found him, he brought him unto Antioch. And it came to pass, that a whole year they assembled themselves with the church, and taught much people. And the disciples were called Christians first in Antioch.
The disciples were called Christians. Therefore to be a Christian, you must first be a disciple of Jesus Christ. Before the baptism, we are believers. We become disciples only after baptism. Without discipleship, there is no Christianity.
3 keys to Discipleship:
Abide in the Word of God.
John 8:31 31 Then said Jesus to those Jews which believed on him, If ye continue in my word, then are ye my disciples indeed; 

1 Peter 1:23-25 Being born again, not of corruptible seed, but of incorruptible, by the word of God, which liveth and abideth for ever. 24 For all flesh is as grass, and all the glory of man as the flower of grass. The grass withereth, and the flower thereof falleth away: 25 But the word of the Lord endureth for ever. And this is the word which by the gospel is preached untoyou.The Word of God is the incorruptible seed to make us Born Again. We must meditate the Word of God daily.
Love for one another.John 13:35 By this shall all men know that ye are my disciples, if ye have love one to another
1 John 4:19-20 We love him, because he first loved us. 20 If a man say, I love God, and hateth his brother, he is a liar: for he that loveth not his brother whom he hath seen, how can he love God whom he hath not seen?
Romans 5:8 But God commendeth his love toward us, in that, while we were yet sinners, Christ died for us.

How to demonstrate our love?
1. Speech
2. Touch
3. Gift
4. Service
5. Spending Time
Bear the fruit of the Holy Spirit.
John 15:8 Herein is my Father glorified, that ye bear much fruit; so shall ye be my disciples.