28th May 2014, Wednesday, 10:30 am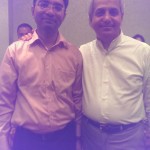 Today, I attended the Benny Hinn meeting at the Orchard Hotel. It was a privilege to be seated in the first row.
He first shared the 7 manifestations of the Anointing in the Bible.
The first manifestation of the Anointing is for preaching the Gospel. You will witness to others. The anointing comes when the Gospel is preached.
The second manifestation is for teaching. Information becomes Revelation because of Anointing. With the anointing, the word becomes life.
There is an anointing for deliverance The anointing of God breaks the bondage.
There is an anointing for healing the sick.
The anointing is also for prophetic. There are 3 realms of Prophetic: Word of Prophecy, Spirit of Prophecy, Office of Prophet.
There is an anointing for Praise and Worship. Praise is the result of Anointing.
There is an anointing for a favor. Favor means everything you do is blessed. Every plan of Satan against you will fail. It doesn't mean you will not have losses. God Almighty will restore everything you lose. It's God's divine gift of love. He invited the audience to sow a special seed for the Gospel. The anointing of God was awesome as he prayed, laying oil over the envelopes.
He then taught about the 7 keys to the mountain moving prayer.
Matthew 21:22 And all things, whatsoever ye shall ask in prayer, believing, ye shall receive.
He asked the audience, what mountain are you facing today in your life? Is it sickness, disease, bondage, financial problem? Whatever you need is available right now at your fingertips. It's not the will of God that you be defeated. Prayer should become an essential part of your daily life so that your whole life is a series of miracles.
To be victorious in prayer, you must take certain steps:
You cannot have divine communion and human communion at the same time. Being alone is the first key to release power. Matthew 6:5 And when thou prayest, thou shalt not be as the hypocrites are: for they love to pray standing in the synagogues and in the corners of the streets, that they may be seen of men. Verily I say unto you, They have their reward.6 But thou, when thou prayest, enter into thy closet, and when thou hast shut thy door, pray to thy Father which is in secret; and thy Father which seeth in secret shall reward thee openly.You and I must be alone with God. Prayer is entering into the Presence of God. When you are alone, you are telling God, He's worthy of honor and reverence, the time belongs to God only and not family, friends or business. The devil knows distraction kills the Anointing. Nothing becomes dynamic until it becomes specific. You must be focused with God.
When you pray, do no use vain repetition. Ecclesiastes 5:22 Be not rash with thy mouth, and let not thine heart be hasty to utter any thing before God: for God is in heaven, and thou upon earth: therefore let thy words be few.When you're alone, you recognize the Presence of God and then your prayers becomes delight. You must pay the price of being alone with God. When you wait upon the Lord, you will receive strength in your inner man, God will change the altitude in your spirit, you will become discerning, you will know the purpose of your life, fellowship will be restored.
The second key for the mountain moving prayer is Praise. Psalm 100:4 Enter into his gates with thanksgiving, and into his courts with praise: be thankful unto him, and bless his name.
Praise is a mighty mighty weapon. Praise is where God lives, gives access to God's Presence. Praise destroys oppression, bondage. You become free from depression. Praise will preserve you and protect you. Praise is the believer's arsenal. Praise releases God to do battle for you.
The third key is you must know the will of God before you ask God about it. You cannot pray effectively without knowing the will of God. The will of God is found progressively. You will discover God's will when you're moving. You must test the will of God. Once you know, pray about it.
The fourth key is you must come daily. There can be no power in your prayer life unless you have daily contact. Our spiritual life can deteriorate real quick with the lack of daily prayer. Daily contact with God is the greatest secret of power. When you pray daily, you develop a heavenly substance that you can use for later use.
The fifth key is the power in the Blood of Jesus. Hebrews 10:19 Having therefore, brethren, boldness to enter into the holiest by the blood of Jesus, Isaiah 59:1-2  Behold, the Lord's hand is not shortened, that it cannot save; neither his ear heavy, that it cannot hear:2 But your iniquities have separated between you and your God, and your sins have hid his face from you, that he will not hear. We must confess our sins for our prayers to be answered.
The sixth key is Faith. Mark 11:22-2422 And Jesus answering saith unto them, Have faith in God.23 For verily I say unto you, That whosoever shall say unto this mountain, Be thou removed, and be thou cast into the sea; and shall not doubt in his heart, but shall believe that those things which he saith shall come to pass; he shall have whatsoever he saith.24 Therefore I say unto you, What things soever ye desire, when ye pray, believe that ye receive them, and ye shall have them.
The Holy Spirit imparts Faith when His Presence is there.
The seventh key is the Name of Jesus. You have authority as a Christian. John 14:1313 And whatsoever ye shall ask in my name, that will I do, that the Father may be glorified in the Son.
Pastor Benny Hinn finally led the people into beautiful worship. The Presence of God was beautiful during worship.
After the session, a few of us were invited to meet him personally. We had a brief talk and a photo session. Praise God :).