5-Jan-2013
I visited Kulai on 5th Jan 2013. Being an Indian nationality, it is mandatory to have a tourist visa before travelling to Malaysia. I had got the tourist visa for one year by paying 30 SGD as the visa fee from Mustaffa center.
I purchased the KTM train ticket online, two days before my journey. If you're booking through the website, you need to book at least two days before the journey date.  The ticket showed the station name as Woodlands CIQ. I was confused by the name and googled where exactly is the Woodlands CIQ and found that it's also known by Woodlands Train Check Point. There are direct buses to Woodlands Train Checkpoint station from the Woodlands MRT, Kranji MRT, and Marsilling MRT. I decided to take a direct bus to Woodlands Train Check Point from the Marsilling MRT.
On the day of journey, I woke up at five in the morning, left home twenty minutes past six to catch the 8:45 train from the Woodlands CIQ Station (Woodlands Train Check Point Station).
From home, I took a bus to Bishan MRT and then took North-South line to Marsilling MRT. It was 7:20 am when I reached the Marsilling MRT. From the Marsilling MRT,  I took Exit C, crossed the overhead bridge and boarded the bus 856. In 20 minutes, I reached the bus stand at Woodlands Train Checkpoint. On reaching station, I found it had no restrooms, it's there after the immigration counter.
I took the stairs to level 2 as indicated in the signboard. There were two directions – one indicating "Woodlands Train Check Point" and another " Woodlands Checkpoint".  There was a big queue for 'Woodlands Train Checkpoint".  The gates to the immigration were closed and it opened only 30 minutes before the departure of the train. I stood in the queue waiting for the gates to open. But I was confused by two different signboards – Woodlands Train Check Point and Woodlands Check Point. I asked a  girl behind me in the queue about the difference and she was also not sure.
The gate opened at 8 am. But when I reached the security and showed my ticket,  I was told to wait till 8:15 am, since my departure time was at 8:45 am. Passengers boarding train at 8:30, were allowed inside first.
Finally at 8:15, the gate opened once again. I took the stairs down and reached the Singapore Immigration counter. I presented my NRIC card and Passport. It was quick and smooth. After Singapore immigration, I walked towards the gate 5 for Malaysian immigration. It's a different room at the same level.
At the immigration counter, I presented my passport to Malaysian immigration authority.  After stamping the visa, I went to the waiting room. As I was capturing photos using my camera, a security officer informed me, I was not supposed to take photos inside the building.
The train arrived at sharp 8:45 am. It is a sharp contrast to Indian railways. There were no hawkers or much people on the platform. I got in to the air-conditioned coach and took my windows seat – 3A. I sent SMS to James about my arrival. At 9 am, the train departed Woodlands CIQ and in another ten minutes, it reached JB Central station, Malaysia. People boarded from JB central and after 20 minutes, the guard blew the whistle.
After some time, the ticket collector came to check the tickets. At 9:40 am, the train reached Kulai. I was amazed that it was such a small station.
I expected money exchange shops at the Kulai station but there were none nearby.  I took a walk and inquired at few places. Finally I found one and exchanged SGD to Malaysian Ringet. At that time, I received SMS from James, he was waiting for me at the Kulai Station but I was not able to reply him. On the way back to station, I met a policeman and told him, I wanted to make a call. He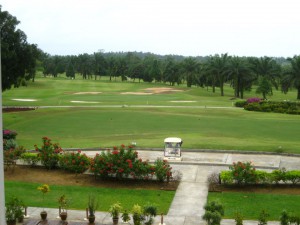 willingly gave his cell phone. I was impressed by his generosity.
On reaching station, I met James and went to his house near a palm tree estate. At noon, we had Indian lunch from a food court and then went to golf ground.
At 4 pm, he dropped me at JB central in his car. Since the next available train was only at 5:15 pm, I decided to take bus to Singapore. I cleared the Malaysian immigration and went towards the direction pointing Woodlands to catch bus. On reaching bus stand, to my surprise, I found Singapore SMRT bus# 170 departing to Kranji. I used the same EZLink card and boarded the bus. Within 10 minutes, it reached Woodlands checkpoint. All the passengers got off the bus and walked towards the Singapore immigration counter. After clearing immigration, I walked towards the bus stand and took the same bus#170. In another 10 minutes, it reached Kranji MRT. I then took MRT to Bishan. Reaching Bishan, I went for  family blessings meeting at Jesus Calls Prayer Tower .
If you got any questions, feel free to contact me at [email protected]
God Bless 🙂