On 22nd September 2013, Sunday, 6 PM I attended Dr Benny Prasad's music concert at the Park Mall, Dhoby Gaut.
The concert was organized by TEHILLAH, a group of youngsters on fire for God.
When I saw Benny Prasad, I was honestly surprised, how this man could travel every country and meet Presidents and dignitaries. He has no charismatic voice, wore casual dress, and still very influential.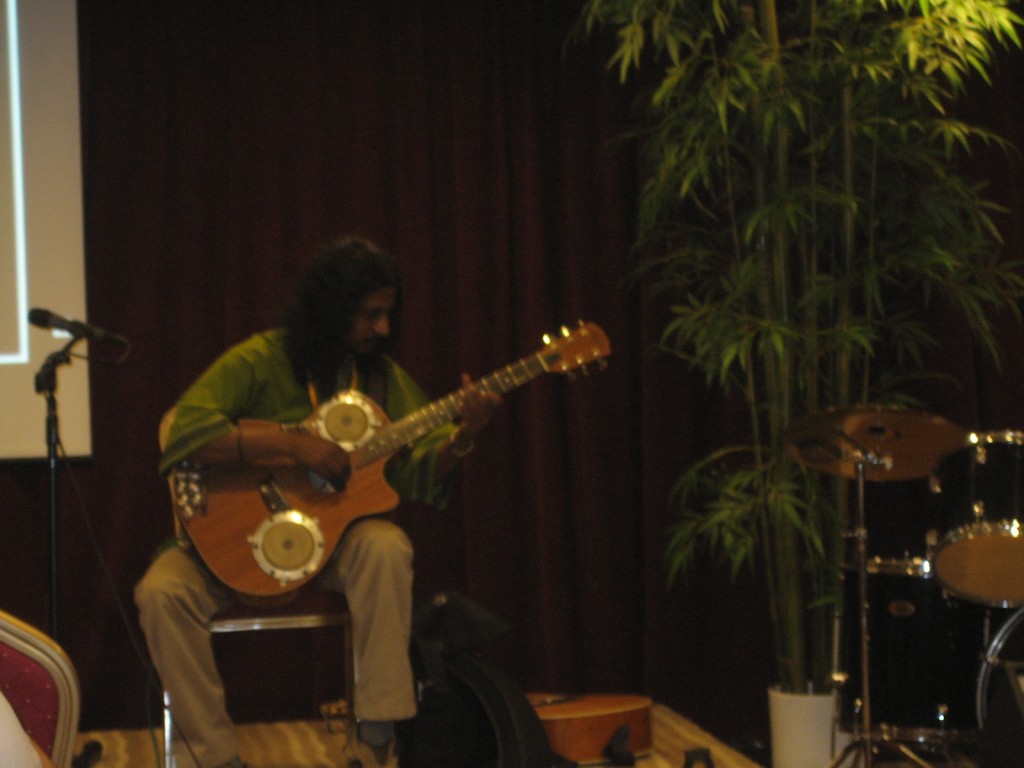 Benny was born in Bangalore, India. His father was a Aerospace Scientist and expected his son to excel in studies. Instead Benny was miserable in his studies. He barely managed to pass his school exams and failed in the 12th standard. Teachers labelled him hopeless. Finding no fulfillment in life, Benny became depressed.
He suffered from severe asthma which required him to take steroids. From the age of 12 to 16, due to wrong medication, he suffered severe arthritis. He was a good athlete at school. He had a dream to participate in Olympics, but a mishap from Javelin throw, damaged his spinal cord and destroyed his dream of a being a sports man.
While he was contemplating suicide at the age of 16, he encountered God and heard a voice speak to him "Benny, even though you have been useless all your life, I need you now and I will make you a new creation".  He surrendered his life to Jesus Christ. From that time, God gave him new dreams, new goals, and positive desires.
He was invited by the President of Singapore in September 2003, for a music concert. Medically, it was impossible for him to play guitar due to arthritis in his fingers, but by the Grace of God, he was able to play. "If you're facing a challenging situation, God has the power to turn things around. He can turn your mourning into dancing. God can change the dead broken dreams, your childhood dreams into reality" – Benny Prasad.
He was invited to 2004 Greek Olympics for a music concert. He designed a special guitar for that purpose. We think marks or parents or school decide our career, but his life is a testimony of what God has done for him. His guitar teacher labeled him hopeless but he studied music and became the best guitarist at the age of 19 in his college.
We all have dreams, some come true, some don't. Ask God  for His Plans for you, said Benny. God's ways are higher than your ways and His thoughts, higher than your thoughts.
He received vision from God to travel every country by 2010. There is no record of any musician who has traveled all the countries. So he asked God to be the provider. He charges no money for the concert. And borrows no money. He is the fastest man ever to visit all 245 countries in 6 years, 6 months and 22 days. He has even traveled Antarctica, and countries like North Korea and Pakistan for the music concert.
Life is not easy, but that doesn't mean you take shortcuts. One of the challenges we face is corruption and if you want to remove corruption, you must change first. He shared his story about his first invitation to perform a concert in Moscow. The officials at the Moscow airport asked him for a bribe and he refused to compromise. They kept him waiting for 30 hours and finally deported him back to Delhi. It was a humiliating experience but he never compromised his integrity.
Character is more important than your achievements. God will honor you at the right time, even though it may not be immediate. Just because you had a difficult beginning, doesn't mean you will have a difficult ending.
We must have a purpose in life else life is boring. We must be content with what we have. But the world will never allow you to be content. He advised the people not to be caught up with brand and fancy gadgets. Most of the times, we are slaves of people's expectation.
The service finally ended with a beautiful song "Purify My Heart".  Praise God for the wonderful time 🙂