Day 2 of the Prophetic Conference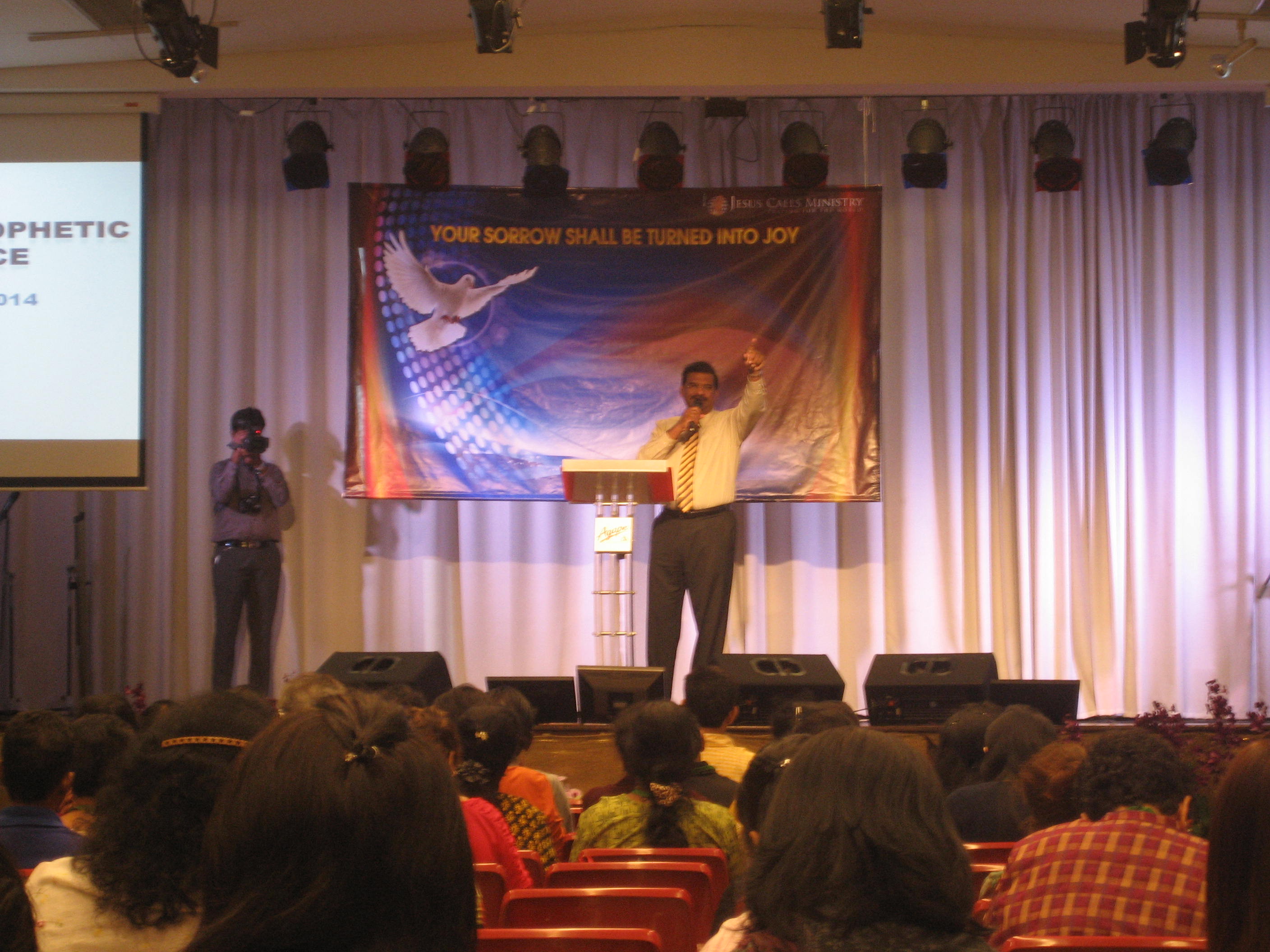 Hebrews 4:3 For we which have believed do enter into rest, as he said, As I have sworn in my wrath, if they shall enter into my rest: although the works were finished from the foundation of the world.
Exodus 23:20 Behold, I send an Angel before thee, to keep thee in the way, and to bring thee into the place which I have prepared.
Amos 3:7 Surely the Lord God will do nothing, but he revealeth his secret unto his servants the prophets.
Father prepares the plan, Son paid the price, Holy Spirit leads us into the plan.
Today we are under the dispensation of the Holy Spirit. It's the Holy Spirit, who comes into our heart, joins with man's spirit, and fulfills the plan. When the Holy Spirit operates, He brings the Power of God and the Plan of God into being.
2 Corinthians 3:18 But we all, with open face beholding as in a glass the glory of the Lord, are changed into the same image from glory to glory, even as by the Spirit of the Lord.
When the Holy Spirit comes and joins with us, the power of God operates in our lives.
2 Corinthians 12:8-10 8 For this thing I besought the Lord thrice, that it might depart from me. 9 And he said unto me, My grace is sufficient for thee: for my strength is made perfect in weakness. Most gladly therefore will I rather glory in my infirmities, that the power of Christ may rest upon me. 10 Therefore I take pleasure in infirmities, in reproaches, in necessities, in persecutions, in distresses for Christ's sake: for when I am weak, then am I strong.
The Gifts of the Holy Spirit are categorized into 3 main sections:
Gifts of Revelation – Word of Wisdom (solution to the problem – 5 loaves and 2 fish, shows you what you should do), Word of Knowledge, Discerning of spirits.
To whom much is given, much is expected. God chooses weak to confound the mighty. Do not underestimate yourself. Preach the Gospel and use words if necessary. You will know how to solve the problem through the Holy Spirit.
1 Timothy 5:8 Everyone should provide for his own relatives. Most of all, everyone should take care of his own family. If he doesn't, he has left the faith. He is worse than someone who doesn't believe.
The gift of discerning of spirits knows the spirits and overcomes the spirits. 1 John 4:1 Beloved, believe not every spirit, but try the spirits whether they are of God: because many false prophets are gone out into the world.
There are 4 spirits. 1. Holy Spirit 2. Man's spirit. 3 Evil spirits 4. Spirit of Anti-Christ.
Luke 9:47 47 And Jesus, perceiving the thought of their heart, took a child, and set him by him, Luke 5:22 But when Jesus perceived their thoughts, he answering said unto them, What reason ye in your hearts? Matthew 22:18 But Jesus perceived their wickedness, and said, Why tempt ye me, ye hypocrites? Mark 12:34 And when Jesus saw that he answered discreetly, he said unto him, Thou art not far from the kingdom of God. And no man after that durst ask him any question Luke 22:31 And the Lord said, Simon, Simon, behold, Satan hath desired to have you, that he may sift you as wheat:
Gifts of Communication – God communicates with man, man communicates with God, and man communicates with man. Under this gift, we have Gift of Tongues, Interpretation of Tongues, and Prophecy. Gift of Tongues – Unless God communicates with us and we communicate with God, the plan of God cannot come into us. Isaiah 28:11 ll right then, these people won't listen to me. So God will speak to them. He will speak by using people who speak unfamiliar languages. He will speak by using the mouths of strangers.
The Holy Spirit in you speaks in tongues, communicating your heart's desire and pain. And the Holy Spirit interprets to God. 1 John 5:14  There is one thing we can be sure of when we come to God in prayer. If we ask anything in keeping with what he wants, he hears us.
Gifts of Power – operates to bring God's plan into being. Under Power, we have, Gifts of Faith, Healings, and working miracles. Luke 24:19 19 "What things?" Jesus asked. "About Jesus of Nazareth," they replied. "He was a prophet. He was powerful in what he said and did in the eyes of God and all of the people. John 14:12 12 "What I'm about to tell you is true. Anyone who has faith in me will do what I have been doing. In fact, he will do even greater things. That is because I am going to the Father.God loves to heal people. Pray for the healing of the people. Luke 13:32 And he said unto them, Go ye, and tell that fox, Behold, I cast out devils, and I do cures to day and to morrow, and the third day I shall be perfected.

Matthew 9:2 And, behold, they brought to him a man sick of the palsy, lying on a bed: and Jesus seeing their faith said unto the sick of the palsy; Son, be of good cheer; thy sins be forgiven thee.

God brings healing to soul, mind, and body. He heals through the Anointing of Oil (symbolic of Holy Spirit), laying on off hands.

Job 5:9-10 Which doeth great things and unsearchable; marvellous things without number: 10 Who giveth rain upon the earth, and sendeth waters upon the fields

John 2: 23 Now when he was in Jerusalem at the passover, in the feast day, many believed in his name, when they saw the miracles which he did.

Acts 2:22  Ye men of Israel, hear these words; Jesus of Nazareth, a man approved of God among you by miracles and wonders and signs, which God did by him in the midst of you, as ye yourselves also know:

Acts 19:11  And God wrought special miracles by the hands of Paul:
God gives us the Holy Spirit and the Holy Spirit operates the gifts.  How do you know the will of God. Let the Holy Spirit speak. When we speak in tongues, it's God speaking.  When husband and wife speak in tongues, it purifies the relationship.
Hebrews 7:25 Wherefore he is able also to save them to the uttermost that come unto God by him, seeing he ever liveth to make intercession for them.
Romans 8:34 Who is he that condemneth? It is Christ that died, yea rather, that is risen again, who is even at the right hand of God, who also maketh intercession for us.
The Holy Spirit groans and intercedes for us. The Blood of Jesus intercedes and speaks good things.
1 Corinthians 13:1 Though I speak with the tongues of men and of angels, and have not charity, I am become as sounding brass, or a tinkling cymbal.
Acts 2:11  Cretes and Arabians, we do hear them speak in our tongues the wonderful works of God.
1 Corinthians 14:4 He that speaketh in an unknown tongue edifieth himself; but he that prophesieth edifieth the church.
We fail in many things due battle between mind and spirit, but the Holy Spirit helps in our weakness.
John 16:8 And when he is come, he will reprove the world of sin, and of righteousness, and of judgment: