On the 2nd of June, 2013, 10 am, Sunday I attended the City Harvest Church at Singapore Expo Hall 1.  The Presence of God was beautiful beyond description during the Praise and Worship.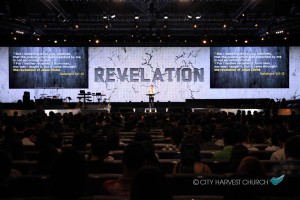 After Praise and Worship, Pastor Kong shared the sermon on the importance of Revelation. He started the sermon by quoting Apostle Paul, who introduces himself as a man born out of due time. He was born in Tarsus and not in Jerusalem. Wrong place, wrong time. From the least of apostles he becomes the most prominent apostle. None of the apostles had the vision of the third heaven. He wrote 13 letters. He was a man who was given the Revelation, meaning unveiling, uncovering.
Galatians 1:11-12
11 But I certify you, brethren, that the gospel which was preached of me is not after man. 12 For I neither received it of man, neither was I taught it, but by the revelation of Jesus Christ.
Matthew, Mark, Luke recorded the Gospel but Paul was given the vision to explain the Gospel.
Galatians 1:15-17
15 But when it pleased God, who separated me from my mother's womb, and called me by his grace, 16 To reveal his Son in me, that I might preach him among the heathen; immediately I conferred not with flesh and blood: 17 Neither went I up to Jerusalem to them which were apostles before me; but I went into Arabia, and returned again unto Damascus.
1 Corinthians 2:1-2
2 And I, brethren, when I came to you, came not with excellency of speech or of wisdom, declaring unto you the testimony of God. 2 For I determined not to know any thing among you, save Jesus Christ, and him crucified.
Paul learnt all about Jesus as the High Priest, Intercessor, Mediator, seated at the right hand of the Father, as he prayed, worshiped and meditated the Word of God.  Paul knew the invisible.
Matthew 16:16
16 And Simon Peter answered and said, Thou art the Christ, the Son of the living God.
For 3 long years disciples walked with Jesus, yet they didn't have deep understanding and Revelation.
Matthew 16:18
18 And I say also unto thee, That thou art Peter, and upon this rock I will build my church; and the gates of hell shall not prevail against it.
Only on the rock of revelation, Jesus can build something powerful. Church is build on the revelation and not information. The more revelation the Church gets, the more powerful it becomes.
In order to build career, ministry, business, God has a specific direction for each one of us that comes through Revelation.
Pastor Kong then shared how he received the Revelation from God to start City Harvest Church.
Galatians 1:12 For I neither received it of man, neither was I taught it, but by the revelation of Jesus Christ.
Ephesians 1:16-18
16 Cease not to give thanks for you, making mention of you in my prayers; 17 That the God of our Lord Jesus Christ, the Father of glory, may give unto you the spirit of wisdom and revelation in the knowledge of him: 18 The eyes of your understanding being enlightened; that ye may know what is the hope of his calling, and what the riches of the glory of his inheritance in the saints,
Knowledge shouldn't be just by reading books or by hearing sermon. There are 3 Greek words for knowledge
Eido – discover or perceive something
Ginosko – know by experience or physical contact
Epignosis – Full thorough accurate knowledge
Ephesians 4:13
13 Till we all come in the unity of the faith, and of the knowledge of the Son of God, unto a perfect man, unto the measure of the stature of the fulness of Christ:
Revelation 1:17-18
17 And when I saw him, I fell at his feet as dead. And he laid his right hand upon me, saying unto me, Fear not; I am the first and the last: 18 I am he that liveth, and was dead; and, behold, I am alive for evermore, Amen; and have the keys of hell and of death.
Dedication born not out of revelation will not last. Without personal revelation, you and I will not be able to sustain dedication. Revelation fuels dedication. For that reason, Satan hates dedication, said Pastor Kong
2 Corinthians 12:7
7 And lest I should be exalted above measure through the abundance of the revelations, there was given to me a thorn in the flesh, the messenger of Satan to buffet me, lest I should be exalted above measure.
Paul didn't just have one revelation but he went on and on and had a life of constant revelation and vision. Revelation is the key to faith and revival. The moment you have revelation, the devil knows you're a threat to his kingdom.
2 Corinthians 12:8-10
8 For this thing I besought the Lord thrice, that it might depart from me. 9 And he said unto me, My grace is sufficient for thee: for my strength is made perfect in weakness. Most gladly therefore will I rather glory in my infirmities, that the power of Christ may rest upon me. 10 Therefore I take pleasure in infirmities, in reproaches, in necessities, in persecutions, in distresses for Christ's sake: for when I am weak, then am I strong
The more revelation you get, the stronger you're.
Ephesians 3:10-13
10 To the intent that now unto the principalities and powers in heavenly places might be known by the church the manifold wisdom of God, 11 According to the eternal purpose which he purposed in Christ Jesus our Lord: 12 In whom we have boldness and access with confidence by the faith of him. 13 Wherefore I desire that ye faint not at my tribulations for you, which is your glory.
Revelation keeps us constantly revived. At some point in your spiritual journey, you may come under Satan's attack. How do we keep the love of God fresh ? We need a personal revelation and encounter with Jesus stressed Pastor Kong.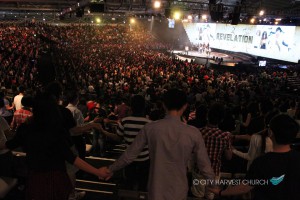 After the sermon, Pastor Kong led the people into worship  and prayer. The anointing was powerful. Finally the service ended with beautiful praise song " Your Grace is enough for me"
Praise God for a wonderful time 🙂