03-May-2014, Saturday
Today, I attended the Family Blessing meeting at the Jesus Calls Prayer Tower, Bishan. The service started with beautiful Praise and Worship. The Presence of God was beautiful during the worship.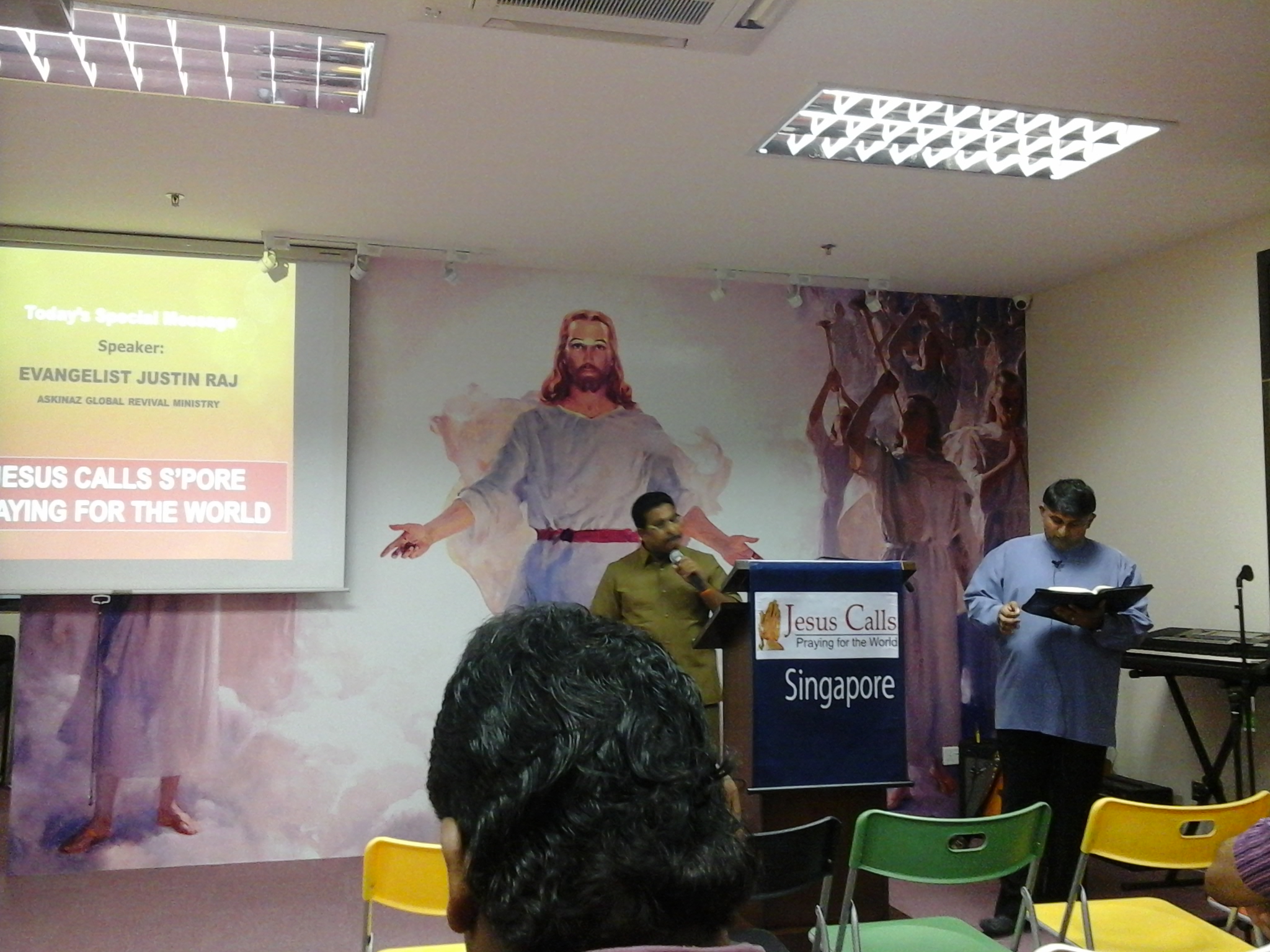 After Praise and Worship, Evangelist Justin Raaj from the Askinaz Global Revival ministry, India, shared the Word of God quoting Joshua 24:14-16
14 Now therefore fear the Lord, and serve him in sincerity and in truth: and put away the gods which your fathers served on the other side of the flood, and in Egypt; and serve ye the Lord. 15 And if it seem evil unto you to serve the Lord, choose you this day whom ye will serve; whether the gods which your fathers served that were on the other side of the flood, or the gods of the Amorites, in whose land ye dwell: but as for me and my house, we will serve the Lord. 16 And the people answered and said, God forbid that we should forsake the Lord, to serve other gods;
He shared the Word of God with power and zeal. He mentioned God will perform miracles and honor those who serve Him. If we stay true to God, God will lift us up in the due time. When you stand for God, God will be with you. You must submit to the Revelation of God like Joshua. Surrender to God like Abraham. Abraham and Joshua made decisions in the Presence of God. Abraham knew God will never intend evil for him and his family.
Pastor Justin Raaj exhorted people to surrender to God as a family and put away all disunity.
Joshua 4:14 4 On that day the Lord magnified Joshua in the sight of all Israel; and they feared him, as they feared Moses, all the days of his life.
Since, Abraham and Joshua were zealous for God, God blessed them. We must make a decision today to love God and be zealous for Him in a special way.
After the service, he prayed for each one individually. When I went for prayers, he laid hands over me and prophesied over my life. Praise God for a wonderful time.