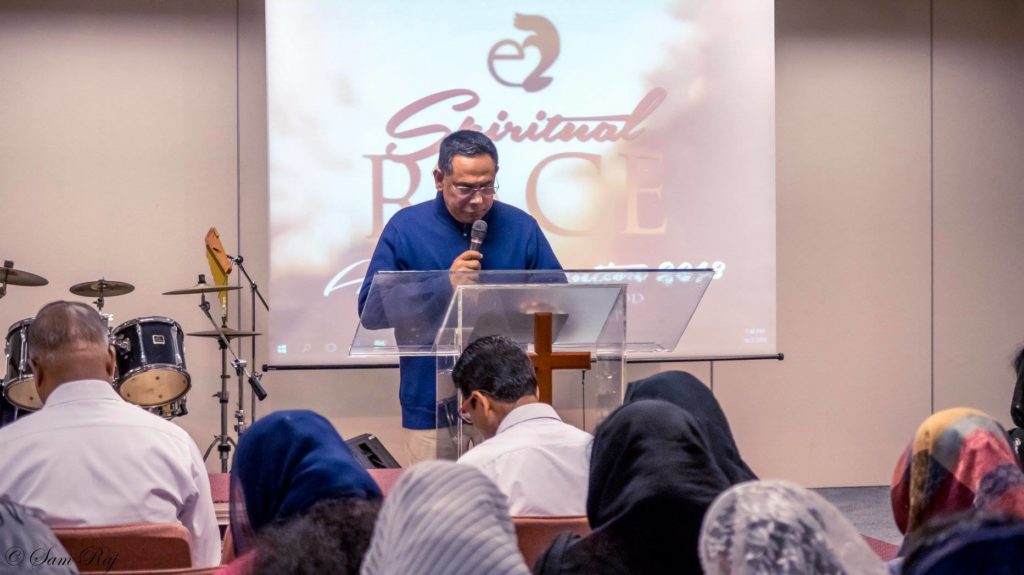 Bible Teaching at the Malayalam Fellowship Emmanuel Assemblies of God.
3 attributes of a family that God deals with Church
Rejoice
Discipline
Submission
Isaiah 61:10-11
I will greatly rejoice in the Lord, My soul shall be joyful in my God; For He has clothed me with the garments of salvation, He has covered me with the robe of righteousness, As a bridegroom decks himself with ornaments, And as a bride adorns herself with her jewels.
11 For as the earth brings forth its bud, As the garden causes the things that are sown in it to spring forth, So the Lord God will cause righteousness and praise to spring forth before all the nations.
Deuteronomy 8:5
You should know in your heart that as a man chastens his son, so the Lord your God chastens you
Hebrews 12:5-10
5 And you have forgotten the exhortation which speaks to you as to sons: "My son, do not despise the chastening of the Lord, Nor be discouraged when you are rebuked by Him; 6 For whom the Lord loves He chastens, And scourges every son whom He receives." 7 If you endure chastening, God deals with you as with sons; for what son is there whom a father does not chasten? 8 But if you are without chastening, of which all have become partakers, then you are illegitimate and not sons. 9 Furthermore, we have had human fathers who corrected us, and we paid them respect. Shall we not much more readily be in subjection to the Father of spirits and live? 10 For they indeed for a few days chastened us as seemed best to them, but He for our profit, that we may be partakers of His holiness.
Ephesians 5:22-25
22 Wives, submit to your own husbands, as to the Lord. 23 For the husband is head of the wife, as also Christ is head of the church; and He is the Savior of the body. 24 Therefore, just as the church is subject to Christ, so let the wives be to their own husbands in everything. 25 Husbands, love your wives, just as Christ also loved the church and gave Himself for her,
2nd Session@ 7- 9 pm
Hebrews 12:1 Therefore we also, since we are surrounded by so great a cloud of witnesses, let us lay aside every weight, and the sin which so easily ensnares us, and let us run with endurance the race that is set before us,
The Christian life is a race.
Deuteronomy 6:4-5
4 "Hear, O Israel: The Lord our God, the Lord is one![a] 5 You shall love the Lord your God with all your heart, with all your soul, and with all your strength.
How is the love towards God manifested?
Worship
Giving
Preaching
Hatred to sin – Daniel 1:8 But Daniel purposed in his heart that he would not defile himself with the portion of the king's delicacies, nor with the wine which he drank; therefore he requested of the chief of the eunuchs that he might not defile himself.Deuteronomy 28:47, 48 47 "Because you did not serve the 

Lord

 your God with joy and gladness of heart, for the abundance of everything, 48 therefore you shall serve your enemies, whom the 

Lord

 will send against you, in hunger, in thirst, in nakedness, and in need of everything; and He will put a yoke of iron on your neck until He has destroyed you2 Corinthians 8: 1-2


Moreover, brethren, we make known to you the grace of God bestowed on the churches of Macedonia: 

2 that in a great trial of affliction the abundance of their joy and their deep poverty abounded in the riches of their liberality.
Things to ponder during the Race
Hinderances to race
Weight – life's worry, tension
Sin
The lesser the weight, more easy to run the race.
Matthew 6:24 24 "No one can serve two masters; for either he will hate the one and love the other, or else he will be loyal to the one and despise the other. You cannot serve God and mammon.
Matthew 6: 25-34
25 "Therefore I say to you, do not worry about your life, what you will eat or what you will drink; nor about your body, what you will put on. Is not life more than food and the body more than clothing? 26 Look at the birds of the air, for they neither sow nor reap nor gather into barns; yet your heavenly Father feeds them. Are you not of more value than they?27 Which of you by worrying can add one cubit to his stature?
28 "So why do you worry about clothing? Consider the lilies of the field, how they grow: they neither toil nor spin; 29 and yet I say to you that even Solomon in all his glory was not arrayed like one of these. 30 Now if God so clothes the grass of the field, which today is, and tomorrow is thrown into the oven, will He not much more clothe you, O you of little faith?
31 "Therefore do not worry, saying, 'What shall we eat?' or 'What shall we drink?' or 'What shall we wear?' 32 For after all these things the Gentiles seek. For your heavenly Father knows that you need all these things.33 But seek first the kingdom of God and His righteousness, and all these things shall be added to you. 34 Therefore do not worry about tomorrow, for tomorrow will worry about its own things. Sufficient for the day is its own trouble.