This year, I had the privilege to attend the Benny Hinn meetings held in Jakarta, Indonesia on 21st and 22nd September, 2012.
21st September 2012, Friday
We left home at around 11 am by taxi, boarded a flight at 12:40 noon, and landed Jakarta at 3:30 pm local time. At the airport, we got our visas from the Immigration counter. From the airport, it was an hour and a half drive to Harris hotel and Convention, Kalapa Gading because of heavy traffic. We reached the hotel at around 5:30 pm. After checking in, we had burgers and then took the taxi to GBI Mawar Sharon Church.
I had the invitation letter from the Benny Hinn Ministries. We had seats with our names on it. Inside the Church, we met Louie Vasilou. We were seated in the fourth row from the stage. The Praise and Worship started early and lasted until 7:40 pm. Pastor Benny then arrived on the stage and led the people into worship. After worship, he first preached on Salvation about why Jesus came on the earth. He quoted verses from Ecclesiastes 7:20 20 For there is not a just man on earth who does good And does not sin.
Psalm 14
The Lord looks down from heaven upon the children of men,
To see if there are any who understand, who seek God.
3 They have all turned aside,
They have together become corrupt;
There is none who does good,
No, not one.
Romans 3:23 23 for all have sinned and fall short of the glory of God
God is Holy, and the Bible describes God's holiness when it says God is light and there is no darkness in Him.
1 John 1:5 This is the message which we have heard from Him and declare to you, that God is light and in Him is no darkness at all.
When the lights come on, darkness is expelled. Just as Light and Darkness cannot be in the same room, similarly light and darkness cannot exist in the same life. Light will expel darkness. God's holiness will expel a sinner. Ezekiel 18;4 says The soul who sins shall die. Romans 6:23 says the wages of sin is death but there is good news: Gift of God is eternal life through Jesus Christ our Lord. Salvation is free, you do not have to pay for it. God so loved the world that He became one of us, by name Jesus, and He died on the cross, became our substitute. Jesus said to the Father, I will take punishment for their sins. That's why Jesus came on earth to become a substitute for our sins. Why did God require shedding of blood in the Old Testament? Because God is holy and sinner must die. Rather than you die, God said, I will require death of someone else for you to come in My Presence, for Me to answer your prayer. But the blood of animals cannot remove sin. Every sacrifice was picture of Jesus Christ. There were 5 different offerings required and each offering represents Jesus Christ. There is heaven and there is hell. With Jesus, God promises heaven. Jesus said, I am the way the truth and life. To be born again is your choice. Pastor Benny mentioned the greatest miracle is the Salvation.
Peter Confesses Jesus as the Christ
13 When Jesus came into the region of Caesarea Philippi, He asked His disciples, saying, "Who do men say that I, the Son of Man, am?" 14 So they said, "Some say John the Baptist, some Elijah, and others Jeremiah or one of the prophets." 15 He said to them, "But who do you say that I am?" 16 Simon Peter answered and said, "You are the Christ, the Son of the living God." 17 Jesus answered and said to him, "Blessed are you, Simon Bar-Jonah, for flesh and blood has not revealed this to you, but My Father who is in heaven.
Salvation requires 4 conditions based on Matthew 16:13-17:
Face to face encounter with Jesus. Peter stood face to face with the Messiah.
The revelation about Christ. You must receive the revelation from the Holy Spirit. Jesus is not the fire escape. We receive Him because we love Him.
Acknowledgment and proclamation that Jesus is the Christ. Peter acknowledged with his mouth.
Public confession of Christ. Peter acknowledged Him publicly.
Pastor Benny invited people who wanted to accept Jesus as their Savior to come forward. People ran forward at the invitation. He led the people to sinner's prayer for salvation and prayed a special blessing over them.
Pastor Benny then shared the message on the 7 dimensions of anointing. The Anointing of the Holy Spirit has seven streams and one of them is Favor. The Anointing is the overflow of God's power, overflow of the life of the Messiah. He said that Divine prosperity is not an accident but a decision. Prosperity is due to obedience.
There are 7 dimensions of the Anointing. There is an Anointing for:
Preaching the Gospel
Teaching the Bible. Through anointing, information becomes a revelation.
Healing the sick
Deliverance from captivity. To break demonic powers in your life.
Prophetic anointing
Praise and Worship, else all you do is sing
Prosperity (Favor). When the favor of God comes on you all your losses will stop. That's what happened to Job. God will bless you twice. Issac received the wealth of Abimelech. Jacob received the wealth of Laban. Joseph was exalted to become the most powerful man of Egypt.  Why would God promote Solomon? Because of favor. Favor of God makes the difference.
He challenged the people to step into a higher dimension of Faith by increasing their level of sowing for the Gospel.
Pastor Benny then preached on healing, and that Jesus is the will of God in action. There is healing in the shadow of Cross. The front of Cross represents forgiveness, but the back of Cross represents healing. He was whipped by the Roman soldiers. The Bible says, "by His stripes we are healed". There are 39 major diseases on this earth and the Bible says Jesus was whipped 39 times. Because of the Cross, God gave the covenant of healing.
Numbers 16:46 46 So Moses said to Aaron, "Take a censer and put fire in it from the altar, put incense on it, and take it quickly to the congregation and make atonement for them; for wrath has gone out from the Lord. The plague has begun.
The power of the Cross will stop the plague in our bodies. Numbers 21 represents the revelation of Cross in the wilderness.
4 Then they journeyed from Mount Hor by the Way of the Red Sea, to go around the land of Edom; and the soul of the people became very discouraged on the way. 5 And the people spoke against God and against Moses: "Why have you brought us up out of Egypt to die in the wilderness? For there is no food and no water, and our soul loathes this worthless bread." 6 So the Lord sent fiery serpents among the people, and they bit the people; and many of the people of Israel died.7 Therefore the people came to Moses, and said, "We have sinned, for we have spoken against the Lord and against you; pray to the Lord that He take away the serpents from us." So Moses prayed for the people.8 Then the Lord said to Moses, "Make a fiery serpent, and set it on a pole; and it shall be that everyone who is bitten, when he looks at it, shall live." 9 So Moses made a bronze serpent, and put it on a pole; and so it was, if a serpent had bitten anyone, when he looked at the bronze serpent, he lived.
John 3:14 14 And as Moses lifted up the serpent in the wilderness, even so must the Son of Man be lifted up.
The brazen serpent is a symbol of Cross, whosoever looks unto Christ on the cross will live. Jesus became our substitute. There is healing in Jesus' Name.
Later, Pastor Benny led the people into worship. During worship, people received healing from their sickness, diseases, arthritis, and pain. He asked the people to come on stage to testify their healing. People responded and shared their testimony of healing and deliverance.
The service ended around 10:30 pm. The road was jam-packed as we left the Church. We waited for a taxi and finally got one after waiting for twenty minutes. On reaching the hotel, we had an excellent dinner. It was 1 pm when we went to bed. The next day morning, we had a breakfast appointment with Pastor Benny Hinn along with other delegates.
22nd September 2012, Saturday
We woke up at 6 am,  got ready, and took a taxi at around 8 am. Because of the weekend, there was no traffic jam, and we reached the hotel Mandarin Oriental at 8:40 am. We met Louie Vasilou, and he gave us name tags. At 10 am, we had a buffet breakfast. We also met one wonderful Indonesian lady and her mom. They shared their testimony, and we had a pleasant talk with them.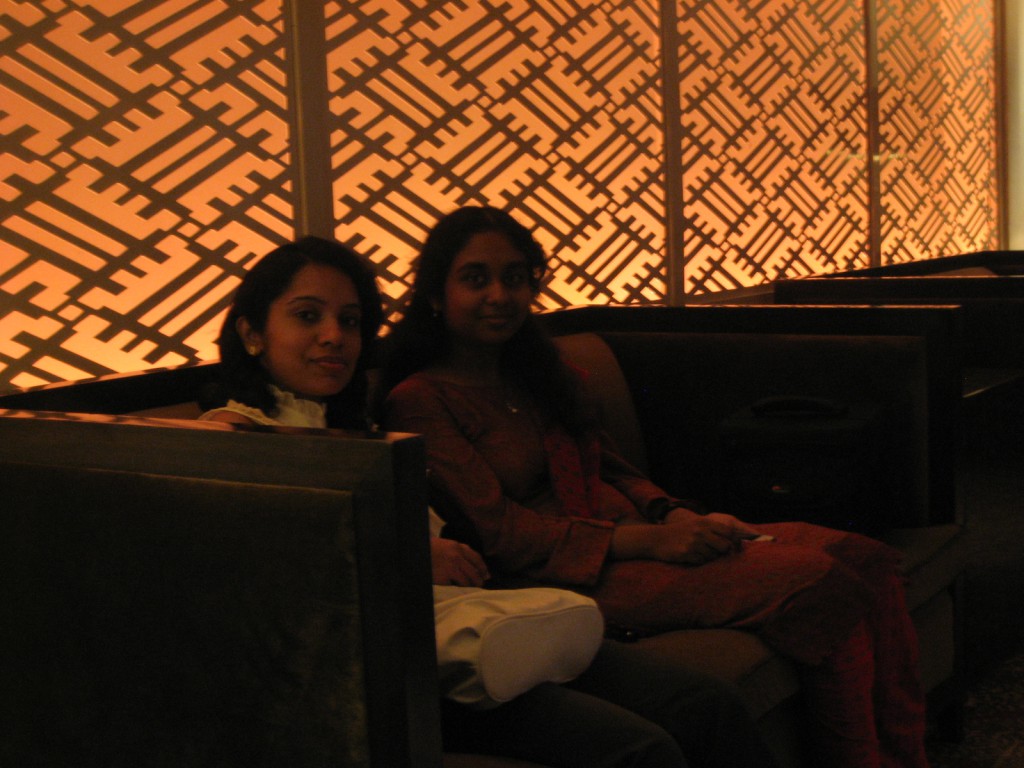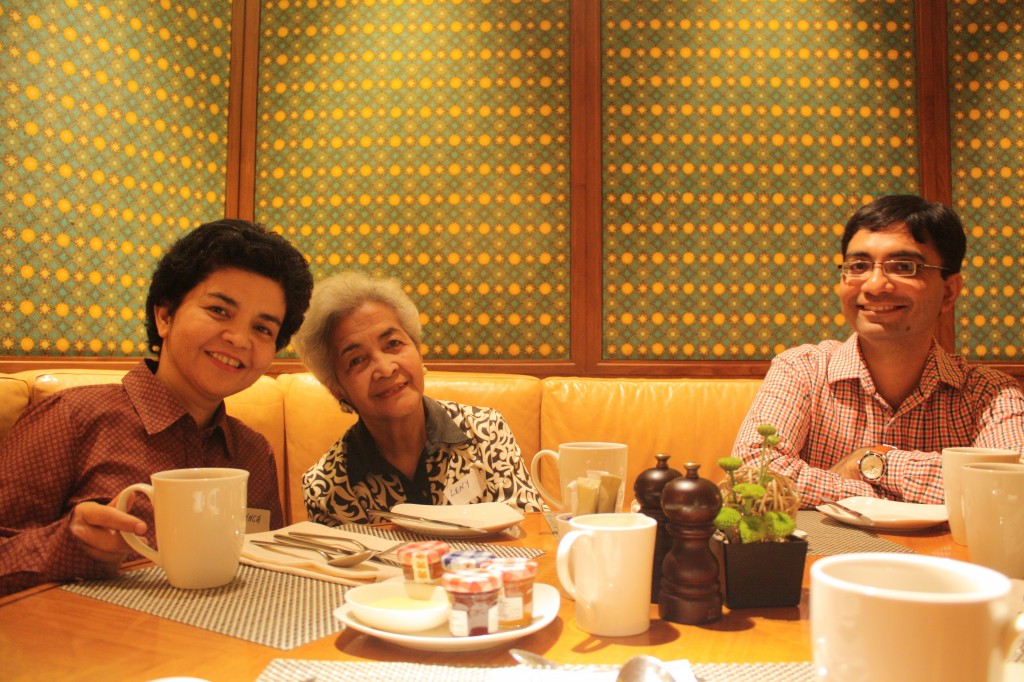 Pastor Benny was seated at the table opposite ours. I could see him having his breakfast and talking with other staff members. After breakfast, he came towards our table and asked everyone to sit together. He discussed the upcoming crusade in Hyderabad, India. He inquired about the state with the largest Christian population and the names of the few cities in Kerala. When I told him about the Orthodox Christians in these places, he mentioned he also came from an Orthodox family. I told him I was greatly inspired by his book Good Morning, Holy Spirit.
After the talks, he prayed for each one individually. When our turn came, he held our hands and prayed a special blessing for us. After the prayer, I asked him if I could take a photo with him and he willingly accepted the request. One family asked Pastor Benny to pray for their son, who had converted to Islam. Pastor Benny asked everyone gathered to lay hands on the photo and pray for the salvation of their son. We all prayed together, and he assured the family that God will bring him back to Christ. After he prayed for each one individually, we had a photo session with Pastor Benny. It was an exciting moment.
We then took the taxi back to our hotel. Reaching the hotel, as I was browsing through the internet in the lounge, we met Yeshinta's mom- Mrs. Yanti. She took us to a nearby mall, and we had local Indonesian tea, juice, and some foodstuffs. We chatted for about an hour.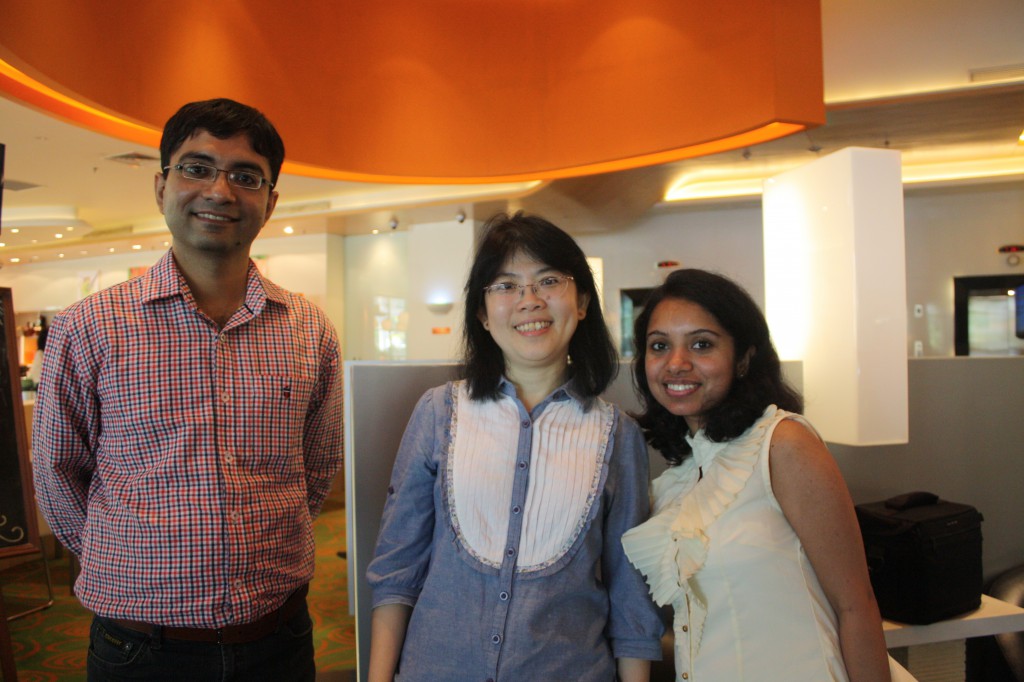 I asked her if she was interested to attend the Benny Hinn service with us. She expressed her interest and mentioned she would pick us up from the hotel in her car. I messaged Louie Vasilou for an additional seat and he replied that he will try his best. At 5 pm, we left for the worship service in Mrs. Yanti's car. We reached the venue at around 5:30 pm and met Louie Vasilou. He managed to get an extra seat for us. I was seated in the second row from the stage. Geenu, Eileen, and Yanti were seated in the fourth row. The service started with Praise and Worship in the Indonesian language. At around 7:15 PM, Pastor Benny came on stage and took his seat. Later Pastor Benny led the people into worship. After worship, he shared the message on the Blessings of the Covenant. A covenant is not a contract. The covenant deals with the exchange of life. God made 7 covenants in the Scripture. He made covenant with Noah, Abraham, Issac, Jacob,  Israel, David, and finally with Jesus. The blood sealed the covenant. As children of God, we have covenant rights with God.  He quoted Job 22:21,  "Now acquaint yourself with Him, and be at peace; Thereby good will come to you.
Proverbs 8:21
That I may cause those who love me to inherit wealth,
That I may fill their treasuries.
Job 22:22 Receive, please, instruction from His mouth,
And lay up His words in your heart.
If you return to the Almighty, you will be built up;
You will remove iniquity far from your tents.
24 Then you will lay your gold in the dust,
And the gold of Ophir among the stones of the brooks.
25 Yes, the Almighty will be your gold[c]
And your precious silver;
26 For then you will have your delight in the Almighty,
And lift up your face to God.
27 You will make your prayer to Him,
He will hear you,
And you will pay your vows.
28 You will also declare a thing,
And it will be established for you;
So light will shine on your ways.
The first step of prosperity is to Love the Lord as in Job 22:22, 23, 24. The second step is to know His Word and receive it. The third step is to obey the Lord as in Job 36:11 – If they obey and serve Him, They shall spend their days in prosperity, And their years in pleasures. The fourth step is to raise your seed which leads to an increase of Faith. You need to be moved within when you give your seed, only then God will be moved for a miracle.
Pastor Benny then shared the message on healing and God's will for healing the sick.  He said in the Presence of Jesus, sickness dies. If you cannot come to Jesus, He will come to you. If you do not know Him, He knows you. If you don't call on Him, He calls on you. In the Bible, Jesus came to meet a demon-possessed man to free him from his bondage. God heard his cry and came to the other side.  That day God saw his pain, similarly, God sees your cry, your pain.
Later Pastor Benny led the people into worship and prayed for healing. He asked the people to come forward if they received healing in their bodies. There was a big queue of people to share their healing testimonies. People received healing from pain, arthritis, sickness, and disease. I could see the joy in their faces.
The service ended at around 10:40 pm. As we stepped outside the Church, there was a huge exodus of people going back home. The road was jam-packed. We managed to reach the main road and Yeshinta's mom drove us back in her car. We bade goodbye to each other.
The next day, we woke up at 5 am, checked out from the hotel, and left for the airport at 7:15 am. We had breakfast at the airport. During check-in, we paid airport tax – 150,000 Indonesian Rupiah per person and boarded the flight back to Singapore.
Praise God for an awesome time 🙂