In Nov 2009, I got an opportunity to attend the Benny Hinn Ministries Fire conference in Surabaya, Indonesia. When I think about Indonesia, I always had an impression of Bali bombings or earthquakes. Nevertheless, I decided to explore the place and know more about the people of Indonesia.
26th Nov 2009
On the day of the meeting, I woke up at 4 am, left home at around 5:35 am, took bus#24 to the Changi Airport, Terminal 2 from my residence. I boarded the silk air flight at 7 am and reached Surabaya, Indonesia at 10 am local time. I paid 10 USD for an Arrival visa.
The people were friendly and courteous at the airport. I decided to exchange 100 USD for Indonesian Rupiah. I got an exchange rate of 9220 Rupiah/USD. It was a big shock when I got approximately 1 million Rupiah in exchange for 100 USD.
Later, I went to a cafe and had a burger and juice. I called up the Country Heritage hotel from a tourist counter. But to my surprise, all the rooms were fully booked due to the Benny Hinn conference. I inquired a few nearby hotels but with no success. Finally, I decided to go to the conference venue which was at Bethany church, and get their help for my accommodation. I was praying for a miracle from God to help me with this unexpected situation.
I took a taxi from the airport and reached the Bethany Church at around 1 pm. It's one of the biggest churches in Indonesia with world-class facilities.
As soon as I stepped out of the taxi, I met Lanang, a native of Indonesia, in front of the gate along with other Indonesians. They requested my entrance ticket but it was with an organizer and I couldn't reach him through my cell phone. I informed Lanang about my problem and also about my hotel stay problem. I was glad they could speak good English. They introduced me to the staff members to present my case. The staff issued me a VIP ticket without any hassle. There, I met Suraya who was one of the ushers to coordinate the event. She inquired a few hotels but with no success. Later, she directed Lanang and other fellow members to help my lookout for a hotel. We took a taxi and decided to try nearby hotels. It's a miracle that I met Lanang. We became very good friends.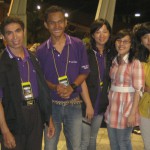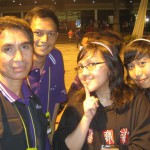 He accompanied me all the time during my stay in Indonesia. At around 2:30 pm, we found one hotel, Sonny. The room was good. I paid 500,000 Rupiah for 3 days, which is just 50 USD. After a quick shower, we went back to Bethany Church. It was around 4 pm. People had already started coming in by early noon. I had a brief chat with one lady, sitting in front of me, who was a businesswoman from Indonesia. She inquired about my stay and food and asked whether I needed any help. I appreciated her care and concern. I was excited to have a seat near the stage.
The choir along with the worship team arrived at sharp 6 pm. They sang beautiful worship songs in the Indonesian language. After the worship songs, one of the BHM staff members announced that Pastor Benny couldn't reach Indonesia due to technical problems with his flight and he will be preaching only on Saturday. As soon as it was announced, I was very much disappointed to hear that. And I could sense disappointment among the audience too. Later, other staff members came on stage and told Pastor Benny is not the healer, only God can perform miracles. They tried their best to cheer up but the excitement was missing. The choir performance after the announcement was not up to the mark. The BHM staff members sang some good songs and I was in awe listening to them. I don't remember his name but he was richly gifted and I was impressed when he sang "Mercy". The service got over at 9 pm.
After the service, I met Lanang's friends who were the ushers and I had a good time with them. Because of the huge crowd, the road was jammed with cars. Suraya helped me get a pedal-driven typical Indonesian transport. It was exciting to travel hotel at night in pedal-driven transport. Lanang was kind enough to accompany me to the hotel. He accompanied me all the 3 days to my hotel and later went back to his residence.
27th Nov 2009
Suraya arranged a cab to take me and Lanang around Surabaya. It was raining heavily in the morning and I was not sure how things will turn out. We went to a place where sulfurous fumes were coming from beneath the earth's surface. It was a sort of tourist attraction and I met people from other nationalities there. Due to sulfurous fumes, I could sense the heat in the entire area.
From there, we went CBD to one of the biggest shopping malls in Indonesia. It took more than an hour for us to find a parking space. I was absolutely frustrated with it. I got off the car along with Lanang and went inside the mall. By this time, I was very hungry. We decided to have Korean food and had OmuRice and Chicken.
On the way back hotel, I could sense something special. I had a feeling tonight's worship service was going to be special and I told Lanang about it. After reaching the hotel and taking bath, we went to the meeting venue. There was not much crowd as on the first day. It had dropped off to almost half. I think it would be around 20,000 people.
At sharp 6 pm, the worship team came. They sang the first song. I could sense the mighty anointing in the very first song. The worship leader also sensed God's presence and led the people directly into worship. People everywhere could sense the mighty presence of God and all were in deep worship. A few seats away from me, I saw a lady giving food to her mentally retarded boy – around 20 years old. I was very much distracted to see that sight. God's presence was so mighty and I wished everybody to be still. As I was grappling with my thoughts, I felt like God telling me to enter into the Holy of Holies. I felt all of a sudden, peace within my spirit. I was no longer distracted. And I can say, without doubt, God the Father was present in the Church. As soon as I entered the Holy of Holies, I felt Jesus inside the Church. And there was a moment, I felt, He said, I am standing beside you. I could feel Him close by. And there were tears in my eyes when I sensed Him. It was for a brief moment, perhaps about 5 mins. I can say it was a special service when God the Father, God the Son, and God the Holy Spirit showed up as in the Bible when a voice came out of the Cloud "This is my beloved Son. Hear Him". After the worship songs, the choir sang Praise and Thanksgiving songs. It was one of the best Holy Spirit Anointed songs, I ever witnessed in my life. At that moment, I felt like I was the most privileged person to witness what I saw with my eyes. Literally, my eyes came out of the socket to see what I was seeing. The crowd was ecstatic, the choir sang marvelously and melodiously under the mighty anointing of God and what happened at Bethany Church, Indonesia was nothing short of the upper room event on the day of Pentecost. The Benny Hinn staff members later preached and witnessed God's mighty presence. They too had a similar experience. There was a brief sermon and later some beautiful songs. Even after the service, nobody wanted to go back. The worship team sang some beautiful songs in the end.
I was mesmerized to see the stark contrast between 26th Nov and 27th Nov. That night, I went to my hotel along with Lanang. I was still in awe after experiencing God's mighty anointing during the Worship Service.
28th Nov 2009
I didn't go out anywhere in the morning except for brief shopping. Pastor Benny was leading the service today. I left the hotel at around 4 pm for the 6 pm worship service. The taxi guy took a longer route and on the way I realized, I forgot to take my Identity Card. The road was jam-packed with all vehicles driving towards the Church. I got off and walked a little, but when I reached the Church, I was disappointed to hear that without an identity card, I cannot get the VIP seat. I decided to go back to the hotel to get my identity card. Due to a traffic jam, I couldn't find any taxi, but after walking a few miles, I came across a pedal-driven rickshaw. I went back to the hotel, and after taking my identity card, I came back to the Church by the same rickshaw. The time was almost 5:30 pm when I arrived at Church. The roads were fully jam-packed by this time. Everybody was walking on the road since there was no vehicle movement. When I arrived at Church, I was shocked to see, the entrance blocked due to the huge crowd. I had waited for this day and I was disappointed when the staff didn't allow me to get inside due to the crowd. Like me, people were desperate to get inside somehow. Finally, some people threw away the barrier and took the stairs. I was no exception. But when we reached the main entrance, there were Indonesian Police doing the security check-up. But even for them, it was very difficult to handle the crowd. They tried to control it but in vain. Finally, I reached inside the Church and heaved a sigh of relief to feel the air-conditioned air. At 6 PM, the worship service started and at around 7:30 pm, Pastor Benny made the entrance and all stood up to welcome him. Pastor Benny led the worship service and I could hear him saying "Lord, I give You all the glory and honor and Praise".  After the worship service, he preached about healing. Later at the end of the service, people came towards the stage to give testimony about their healing. People were healed of cancer, deafness, and many other physical infirmities. The service was scheduled the next day also but I couldn't attend since my tickets were booked. Here is the video of that event.
From what I saw in Indonesia, I know for sure, God loves the people of Indonesia very much. God is looking for men and women, who can be used mightily to bless this nation. The people of Indonesia are very courteous and approachable. They are neither shy nor egoistic.
I pray in the days to come, Indonesia prospers and be a blessing to the entire Asian continent. One more thing I observed is that sometimes we are so much focused on the preachers or pastors that we forget, it's ultimately God who is in control. We may have the best Pastors or preachers but if God is absent then everything is dull and lifeless.