On the 16th March, 2014, 10 am we attended the City Harvest Church service at the Suntec Convention Center. The service started with beautiful praise and worship.
After praise and worship, Pastor Dominic Yeo from the Trinity Christian Center, shared the sermon titled "When the Brook Dries Up".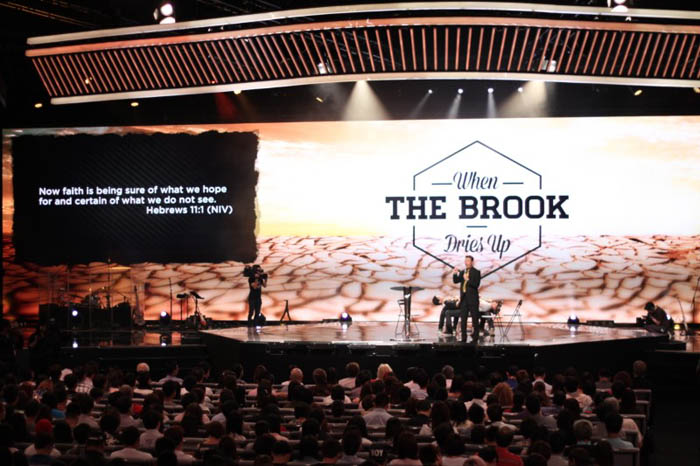 He talked about the 4 dimensions of Faith by quoting 1 Kings 17: 7-15
7 And it came to pass after a while, that the brook dried up, because there had been no rain in the land. 8 And the word of the Lord came unto him, saying, 9 Arise, get thee to Zarephath, which belongeth to Zidon, and dwell there: behold, I have commanded a widow woman there to sustain thee. 10 So he arose and went to Zarephath. And when he came to the gate of the city, behold, the widow woman was there gathering of sticks: and he called to her, and said, Fetch me, I pray thee, a little water in a vessel, that I may drink. 11 And as she was going to fetch it, he called to her, and said, Bring me, I pray thee, a morsel of bread in thine hand. 12 And she said, As the Lord thy God liveth, I have not a cake, but an handful of meal in a barrel, and a little oil in a cruse: and, behold, I am gathering two sticks, that I may go in and dress it for me and my son, that we may eat it, and die. 13 And Elijah said unto her, Fear not; go and do as thou hast said: but make me thereof a little cake first, and bring it unto me, and after make for thee and for thy son. 14 For thus saith the Lord God of Israel, The barrel of meal shall not waste, neither shall the cruse of oil fail, until the day that the Lord sendeth rain upon the earth. 15 And she went and did according to the saying of Elijah: and she, and he, and her house, did eat many days.
Hebrews 11:1 Now faith is the substance of things hoped for, the evidence of things not seen.
Sometime, we experience dry season in our spiritual life or in business or in relationship. What do you do when the river dries up?
First Dimension of Faith – When the river brook dries up, the heart of faith must know God is up to something. When you are in the winter season, God is about to do something great.
Second Dimension of Faith – When the river brook dries up, the ears of faith must hear God for the miracle.  God's past record is an indication of what He will do in future. If God has been giving you supernatural miracles in past, He will continue in future.  Genesis 3:9 And the Lord God called unto Adam, and said unto him, Where art thou?. We must hear His voice for breakthrough. Your proximity determines the level of revelation from God in to your life. Unless you come close, you cannot hear. In the place of proximity, comes revelation.
Third Dimension of Faith – When the river brook dries up, the walk of Faith will take you to a place of Blessing, where He will supply all your needs.
Fourth Dimension of Faith – When the river brook dries up, the eyes of Faith must see they are accomplished before it happens.

1 Kings 17:13-1513 And Elijah said unto her, Fear not; go and do as thou hast said: but make me thereof a little cake first, and bring it unto me, and after make for thee and for thy son.14 For thus saith the Lord God of Israel, The barrel of meal shall not waste, neither shall the cruse of oil fail, until the day that the Lord sendeth rain upon the earth.15 And she went and did according to the saying of Elijah: and she, and he, and her house, did eat many days. 
The eyes of faith sees beyond poverty and see the greatness of God. God's in the supply program and not in the feeding program.

After the sermon, he invited people who wanted to accept Jesus as their Savior to step forward. People responded to the altar call and accepted Jesus as their Savior. Praise God for a wonderful time 🙂