16-Dec-2012, Sunday
On Sunday, Geenu, I, Binu and family, and Vimal, a friend of mine on a business visit from Chennai, attended the beautiful candle light service at City Harvest Church, Expo Hall 1. We got seats with the help of our cell group members. The service started with beautiful Praise and Christmas Carols.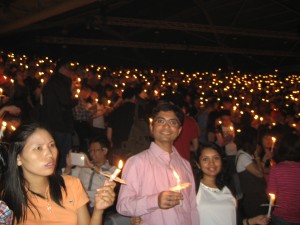 During the carols, people greeted one another Merry Christmas. After the carols, the Millennial Orchestra and choir performed "The First Noel".  The members who completed the bible reading program of Psalms, Hebrews and John received a book of God's promises. Pastor Kong opened his sermon with the verse from Luke 1:78-79
78 Through the tender mercy of our God, With which the Dayspring from on high has visited[a] us;
79 To give light to those who sit in darkness and the shadow of death,
To guide our feet into the way of peace."
Jesus Christ is the Dayspring. He's the Light of the world. "People know the ministry of Jesus Christ before his crucifixion, but what is the present day ministry of Jesus Christ?" quoted Pastor Kong.  What happened to Jesus after the cross? We don't serve a historic Christ alone, we serve a living and almighty God.
There are three things that our Lord Jesus is doing right now.
1. Jesus Christ is our high priest.
2 Corinthians 5:21
21 For He made Him who knew no sin to be sin for us, that we might become the righteousness of God in Him.
Pastor Kong proclaimed that Jesus died as a sacrificial lamb but rose from the dead as the Great High Priest.
Hebrews 2:17
17 Therefore, in all things He had to be made like His brethren, that He might be a merciful and faithful High Priest in things pertaining to God, to make propitiation for the sins of the people.
A priest represents man to God. Jesus' Blood not only covers us but also washes and cleanses our sin.
Hebrews 9:12
12 Not with the blood of goats and calves, but with His own blood He entered the Most Holy Place once for all, having obtained eternal redemption.
The blood of Jesus has permanently destroyed the power of sin from our lives.
Hebrews 9:26
26 He then would have had to suffer often since the foundation of the world; but now, once at the end of the ages, He has appeared to put away sin by the sacrifice of Himself.
2. Jesus Christ – Our Advocate.
Pastor Kong explained that an advocate is a lawyer who speaks in our defense against all  the accusation and condemnation thrown to us.
1 John 1:9-10
9 If we confess our sins, He is faithful and just to forgive us our sins and to cleanse us from all unrighteousness. 10 If we say that we have not sinned, we make Him a liar, and His word is not in us.
1 John 2:1
2 My little children, these things I write to you, so that you may not sin. And if anyone sins, we have an Advocate with the Father, Jesus Christ the righteous.
Pastor Kong explained there are 2 different school of thoughts 1. Calvinism 2. Arminianism
Hyper Calvinist believe
Salvation is predestined.
God decides who is to be saved and condemned.
Once saved always saved.
Extreme Arminianism believe
One must be Born again, again and again. God will kick us out of His kingdom if we make smallest mistake.
Fearful of losing salvation
Hardworking and High Standards
Pastor Kong mentioned the key lies in a balance between these two school of thoughts. We have eternal life as long as we stay in Jesus Christ. We can choose to stay or forsake Christ. We shouldn't be carnal to sin.
3. Jesus Christ – Our intercessor
Hebrews 7:25
25 Therefore He is also able to save to the uttermost those who come to God through Him, since He always lives to make intercession for them.
Jesus is always praying on our behalf for God's will to be done.
Matthew 9:22
22 But Jesus turned around, and when He saw her He said, "Be of good cheer, daughter; your faith has made you well." And the woman was made well from that hour.
Healing is the foundation of Jesus' ministry. God's will for you is to live a healthy life.
1 Corinthians 4:20
20 For the kingdom of God is not in word but in power.
There are 2 other ministries that Jesus is doing right now – Jesus is our mediator and He is our shepherd. Pastor Kong proclaimed that in the midst of darkness, Jesus Christ has come to light up the lives of the believers. On this note, the lights in the hall dimmed. The congregation sang "O Holy Night". The flame was passed from the pulpit to light all the candles in the room. The hall glowed beautifully with candlelight. After a brief worship, the candles went out and the lights came on.
Before the service ended, Pastor Kong asked people who wanted to accept Jesus as their savior to come forward. People responded to the invitation in large numbers. Pastor Kong also prayed for the people who were sick. The anointing of God was powerful as people prayed corporately. The service ended with beautiful Christmas carols and we headed off for lunch.
Praise God for a wonderful time 🙂