24 Feb 2013, Sunday
On Sunday, I left home at 9 am to attend the worship service at City Harvest Church, Singapore Expo Hall 1. By the time, I reached Tanah Merah, it was 9:55 am and had only 5 minutes left for the service to start. So I took a cab to Expo Hall 1 and managed to get in during the Praise. The atmosphere was vibrant with beautiful praise songs. I was glad to make it before the worship started. The anointing was powerful during the songs "We Believe".
After Praise and Worship, Pastor Kong shared the sermon on "Believe". He began by quoting John 6:28-29 as the main theme.
John 6:28-29
28 Then said they unto him, What shall we do, that we might work the works of God? 29 Jesus answered and said unto them, This is the work of God, that ye believe on him whom he hath sent.
Pastor Kong said " The work that you have to do is to believe. On the cross, everything was completed. God created everything by Himself. He didn't need anyone to help Him, as mentioned in the book of Genesis. God told Adam to fellowship with Him, to rest and Believe. God worked six days and then He said it's finished. Jesus was on the cross for six hours and said it's finished. He finished the work of God. Jesus redeemed us so that we can become the righteousness of God in Him. He knows the end from the beginning."
Quoting a statement by Dr Yonggi Cho, Pastor Kong said "God likes to work alone, He is a solitary worker."
Ephesians 2:8-9
8 For by grace are ye saved through faith; and that not of yourselves: it is the gift of God: 9 Not of works, lest any man should boast.
Pastor Kong mentioned that your whole life is how to believe in Jesus more and more. If there is any work we need to do, it's believe in Jesus and grow in faith.
What are the things that you must believe?
You must believe in the great love that God has. 1 John 3:1–

Behold, what manner of love the Father hath bestowed upon us, that we should be called the sons of God: therefore the world knoweth us not, because it knew him not.

Faith only work through love. 1 John 4:16-18 

16 And we have known and believed the love that God hath to us. God is love; and he that dwelleth in love dwelleth in God, and God in him. 17 Herein is our love made perfect, that we may have boldness in the day of judgment: because as he is, so are we in this world. 18 There is no fear in love; but perfect love casteth out fear: because fear hath torment. He that feareth is not made perfect in love.

Fear is a terrible thing. It cripples us. Fear has the power to attract failure, when you have fear, you become a magnet that attracts failure in your life. So don't be afraid, said Pastor Kong.

Faith and love are interrelated. Isaiah 41:10

10 Fear thou not; for I am with thee: be not dismayed; for I am thy God: I will strengthen thee; yea, I will help thee; yea, I will uphold thee with the right hand of my righteousness.

Romans 8:38-39

 38 For I am persuaded, that neither death, nor life, nor angels, nor principalities, nor powers, nor things present, nor things to come,

39 Nor height, nor depth, nor any other creature, shall be able to separate us from the love of God, which is in Christ Jesus our Lord. 

The second thing we must believe is in the Blood of Jesus Christ. Jesus shed His blood and gave us a blood transfusion. We become a new creature in Jesus Christ.  Romans 3:25 25 Whom God hath set forth to be a propitiation through faith in his blood, to declare his righteousness for the remission of sins that are past, through the forbearance of God;
The word remission means not only forgiven but no sign or symptom.  Isaiah 43:25

 


 25 I, even I, am he that blotteth out thy transgressions for mine own sake, and will not remember thy sins.We enter the kingdom of God as justified children of God. There is no memory of past doing. Faith in the Blood of Jesus is the power that launches us into the Presence of God, sin has no longer power over our lives, said Pastor Kong. Colossians 1:22 says22 In the body of his flesh through death, to present you holy and unblameable and unreproveable in his sight:The more we believe in the blood, the more we come boldly in the Presence of God
The third thing we must believe is in the Name of Jesus.  1 John 3:23 23 

And this is his commandment, That we should believe on the name of his Son Jesus Christ, and love one another, as he gave us commandment.

There is victory, power and authority in the name of Jesus. Mark 16:17-18: 17 And these signs shall follow them that believe; In my name shall they cast out devils; they shall speak with new tongues;18 They shall take up serpents; and if they drink any deadly thing, it shall not hurt them; they shall lay hands on the sick, and they shall recover.
The fourth thing we must believe is in the Lordship of Jesus Christ. Don't make Him only your resident but Him your President, said Pastor Kong. Love Him, Follow Him. God wants us to commune and fellowship with Him. Come before God in the beauty of His Holiness, in a life pleasing with Him. When we put on Jesus Christ, we will look good.   Colossians 1:10 10 That ye might walk worthy of the Lord unto all pleasing, being fruitful in every good work, and increasing in the knowledge of God;

Finally, we must believe that there is nothing impossible with God. Mark 9:23 23 

Jesus said unto him, If thou canst believe, all things are possible to him that believeth.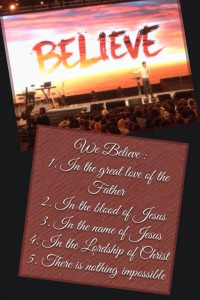 In the great love of the Father
In the Blood of Jesus Christ
In the Name of Jesus
In the Lordship of Jesus
No impossibility with God
"Under pressure, you can be a lemonade or a diamond, chose which one you prefer" quoted Pastor Kong.
Pastor Kong encouraged the audience to give cheerfully for the kingdom of God by quoting the following verses:
Psalm 127:1 Except the Lord build the house, they labour in vain that build it: except the Lordkeep the city, the watchman waketh but in vain.
 Genesis 8:22 22 While the earth remaineth, seedtime and harvest, and cold and heat, and summer and winter, and day and night shall not cease.
Mark 4:26-29
26 And he said, So is the kingdom of God, as if a man should cast seed into the ground; 27 And should sleep, and rise night and day, and the seed should spring and grow up, he knoweth not how. 28 For the earth bringeth forth fruit of herself; first the blade, then the ear, after that the full corn in the ear. 29 But when the fruit is brought forth, immediately he putteth in the sickle, because the harvest is come.
Finally he led the  people into Worship. The Presence of God was beautiful. The anointing was powerful during the song "Love Came Down".
Under the anointing, Pastor Kong prayed for healing, deliverance and financial miracle. People held hands and prayed for one another. It was an awesome time.
Praise God for a wonderful time 🙂