25th Nov 2012, Sunday
Today, Geenu and I, attended the City Harvest Church service at Singapore Expo Hall 1. The service started at sharp 10 am with beautiful praise and worship. The anointing was powerful during the worship especially during the song " You are so good ". The Presence of God was beautiful beyond description.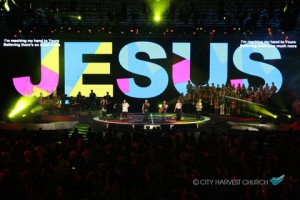 Pastor Kong encouraged people to speak in tongues. He gave a brief introduction about what is meant to be Born Again.  In John 3:3, Jesus explained to Nicodemus, a ruler among the Pharisees, that if he was not born again, he could not see the Kingdom of God–this meant that he would not have spiritual understanding, comprehension of the things of God. and fellowship with God. After worship, there was a welcome speech for the new members who joined the executive team. After the membership ceremony, it was the offering time. Pastor Kong mentioned there are 4 types of the people in the Church: 1. house owners 2. family members 3. visitors 4. tenants. He encouraged people to be in the first category. After the offering, Pastor Kong invited Dr. A.R. Bernard who came all the way from New York to share the word of God. People stood up and gave a rousing welcome to Dr. A.R. Bernard.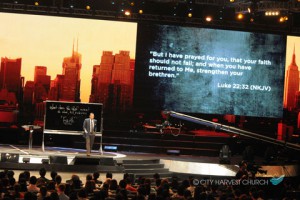 Bernard explained, "Spiritual understanding will only come with the presence of the Holy Spirit in a believer's life."
Eternal life begins when we are born again. We all will have a body like Jesus during the resurrection.
As believers, we live in tension between the ideal and reality, the reality of time which is good along with evil, opportunity with opposition, access to prosperity with threat of poverty. Christians are not exempted from the realities of this earth," said Bernard.
4 Who gave himself for our sins, that he might deliver us from this present evil world, according to the will of God and our Father:
As mentioned in Galatians, we live in the evil world.
Ephesians 6:12 (King James Version)
12 For we wrestle not against flesh and blood, but against principalities, against powers, against the rulers of the darkness of this world, against spiritual wickedness in high places.
10 The thief cometh not, but for to steal, and to kill, and to destroy: I am come that they might have life, and that they might have it more abundantly.
31 And the Lord said, Simon, Simon, behold, Satan hath desired to have you, that he may sift you as wheat:
"Everything we have in life is threatened by the thief, who came to steal, kill and destroy. So the question is: what is does the thief wants to steal?"
Satan is after your "Faith".  Abundant life comes to you by Faith and Faith comes by hearing the word of God.  The devil's after your faith.  The world is built on a merit based system. The universe is established on one principle "Cause and Effect".  Every cause has a effect and every effect becomes a cause.  Everything that you do in life has benefit or consequence. Sometimes, you get both. Merit based system is based on the reward, so you get what you deserve. The devil accuses you by telling you that you don't deserve anything because of your sins. God introduced Grace. Satan hates Grace. Grace allows the people the benefit of what they don't deserve. All that we deserve is because of Jesus Christ. Law emphasized on merit based system but Jesus comes to give grace upon grace due to which Satan cannot accuse a believer. The mouth of the accuser is stopped. Grace scatters your accusers.  In John 8:1-11, we read about how Jesus forgave a woman caught in adultery and told her to go and sin no more.
"Faith is accepting as true what God has revealed in His Word" – said Dr. Bernard.  Faith is foundational to human experience.
29 Jesus saith unto him, Thomas, because thou hast seen me, thou hast believed: blessed are they that have not seen, and yet have believed.
17 For our light affliction, which is but for a moment, worketh for us a far more exceeding and eternal weight of glory;
18 While we look not at the things which are seen, but at the things which are not seen: for the things which are seen are temporal; but the things which are not seen are eternal.
7 (For we walk by faith, not by sight:)
Romans 1:17
17 For therein is the righteousness of God revealed from faith to faith: as it is written, The just shall live by faith.
6 But without faith it is impossible to please him: for he that cometh to God must believe that he is, and that he is a rewarder of them that diligently seek him.
Faith is the foundation to experience God and supernatural life.
After speaking on faith, Dr Bernard quoted 2 Peter 1:3-8.
3 According as his divine power hath given unto us all things that pertain unto life and godliness, through the knowledge of him that hath called us to glory and virtue:4 Whereby are given unto us exceeding great and precious promises: that by these ye might be partakers of the divine nature, having escaped the corruption that is in the world through lust.5 And beside this, giving all diligence, add to your faith virtue; and to virtue knowledge; 6 And to knowledge temperance; and to temperance patience; and to patience godliness; 7 And to godliness brotherly kindness; and to brotherly kindness charity. 8 For if these things be in you, and abound, they make you that ye shall neither be barren nor unfruitful in the knowledge of our Lord Jesus Christ.
The Divine power has given everything that we need in this life to overcome struggles and obstacles to achieve victory. As mentioned in the scriptures, we must add to faith, Virtue (moral excellence), to virtue, we must add knowledge, to knowledge, we must add temperance (self control), to self control add patience (steadfastness), to patience add godliness, to godliness add brotherly affection and finally love.
"Notice that faith is the foundation [on which all these are built]," said Bernard. "What happens if you take away the foundation? Everything else collapses. And that is why satan wants your faith. Once you build all these things on top of your faith, the Scripture says you now have the qualities necessary to be successful, fruitful, and never barren in your life."
Faith sees the opposition, but in spite of it, seizes the opportunity, Bernard pointed out. Faith walks in awareness of all the conflicts and realities of life but faith does not walk subject to these things.
Bernard moved on to establish the character of faith. "The real God-kind of faith is aggressive and powerful. Because the realities of life want to stop us from having faith, we cannot afford to have sluggish faith." Aggressive faith means having determination, creative and energetic pursuit of the goals that one has. It does not quit and give up in the face of opposition, because it understands that with opposition comes opportunity; if anyone wants the opportunity, he need to fight through the opposition
Faith is aggressive and not combative. Faith is having determination, having creative and energetic pursuit of your goals.
Reading from Hebrews 11:33, Bernard showed the congregation that the verbs used to describe the actions of the heroes of faith are all aggressive. "The Bible said they conquered kingdoms, enforced justice, obtained promises and stopped the mouths of lion–these are aggressive words."
Hebrews 11:32-38
32 And what shall I more say? for the time would fail me to tell of Gedeon, and of Barak, and of Samson, and of Jephthae; of David also, and Samuel, and of the prophets: 33 Who through faith subdued kingdoms, wrought righteousness, obtained promises, stopped the mouths of lions. 34 Quenched the violence of fire, escaped the edge of the sword, out of weakness were made strong, waxed valiant in fight, turned to flight the armies of the aliens. 35 Women received their dead raised to life again: and others were tortured, not accepting deliverance; that they might obtain a better resurrection: 36 And others had trial of cruel mockings and scourgings, yea, moreover of bonds and imprisonment: 37 They were stoned, they were sawn asunder, were tempted, were slain with the sword: they wandered about in sheepskins and goatskins; being destitute, afflicted, tormented; 38 (Of whom the world was not worthy:) they wandered in deserts, and in mountains, and in dens and caves of the earth. 39 And these all, having obtained a good report through faith, received not the promise: 40 God having provided some better thing for us, that they without us should not be made perfect.
Faith is also a creative pursuit: it takes creativity to get to the goal. "God never puts His promises in your hands, He always puts it within your reach," noted Bernard. "Because if He puts it in your hand, you don't need to have faith, but if He puts it in a place where you can see it, smell it, taste it, touch it, He forces you to aggressively pursue it."
1 John 5:4
4 For whatsoever is born of God overcometh the world: and this is the victory that overcometh the world, even our faith.
17 (As it is written, I have made thee a father of many nations,) before him whom he believed, even God, who quickeneth the dead, and calleth those things which be not as though they were.18 Who against hope believed in hope, that he might become the father of many nations, according to that which was spoken, So shall thy seed be. 19 And being not weak in faith, he considered not his own body now dead, when he was about an hundred years old, neither yet the deadness of Sarah's womb: 20 He staggered not at the promise of God through unbelief; but was strong in faith, giving glory to God;
"Your faith should be in the God who gives promise and not in the promise" quoted Dr. Bernard.
Finally he closed quoting Hebrews 6:11-12
11 And we desire that every one of you do shew the same diligence to the full assurance of hope unto the end: 12 That ye be not slothful, but followers of them who through faith and patience inherit the promises.
We must inherit the promises of God through perseverance and diligence.
After the sermon, the worship team along with Pastor Kong led the people into the Presence of God. There was mighty anointing as the people were led into the Presence of God. Pastor Kong prayed for the people who were in need of financial miracle,  deliverance, and healing. People held hands and prayed in tongues. It was a beautiful moment as the people prayed corporately. The power of God was awesome. After prayer, the service ended with beautiful praise. It was around 1 pm when the service ended. I wished it continued longer.
Praise God for an awesome time 🙂